Topex at SEE Broadband Belgrade and Capacity Balkans Bucharest 2007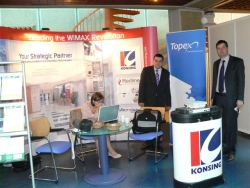 Bucharest, Romania, April 23, 2007 --(
PR.com
)-- After the recent success at CeBIT Hanover, Topex has joined another exposition, this time in Serbia.
The SEE Broadband 2007 is a three day event. The opening keynote plenary session was on April the 16th. It was followed in the afternoon and the next two days by a breakout sessions, covering the latest developments in a broadband communications technology and products, infrastructure and service deployment in Southeastern Europe, regulation and investment polices and best practice. The SEE Broadband Expo 2007 took place in Sava Center, Belgrade.
Topex together with its Serbian partner, Konsing, was present both in the exposition and conference forum. Our company presented its proposal for Next Generation Networks based in its Class 4 and Class 5 softswitch and its advanced range of media gateways.
You are invited to learn more about NGN solutions at
www.topex.ro
These days, Topex joins the Capacity magazine's 2nd annual wholesale telecommunications congress for the Balkans region. The event is held in Bucharest on the 23rd and 24th of April. Among the topics of the event, there are: "Converged services and applications", "Key market opportunities", "Country Profile: Capitalizing on new opportunities in developing Balkans markets: Moldova, Albania, Kosovo, Bosnia, Montenegro, Serbia, Macedonia."
About Konsing:
In January 2002, Ei Corporation, one of the leading Yugoslav electronic and telecom companies, entered into a joint venture with COMgroup International (CGI) - US forming a new company: Ei COMgroup KONSING (70% CGI share and 30% Ei share).
In 2006, the 30% share was privatized and the change of company's capital structure led to a change of a company name to COMgroup KONSING. Through the joint venture Ei Konsing, which was established in Yugoslavia in 1992, has been able to broaden the scope and depth of its activities. Konsing provides the following telecommunication services: Consulting, Project Design, Engineering, Installation, Commissioning and Acceptance Tests, Maintenance and Servicing.
About Topex:
Topex is among the most innovative, fast growing European manufacturers of telecommunication equipment, providing a wide range of telecommunication applications. The company has over 16 years of experience in research, development and manufacture of both civil and military telecommunication devices.
Topex's leveraged expertise includes: Next Generation Network solutions Softswitch, Media Gateways for TDM, VoIP, GSM and CDMA (2G,3G), Signaling Gateways (SS7, ISDN, R2, SIP, H323), Broadband Wi-Fi Mobile Routers, Fixed-Mobile Terminals (2G, 3G) and ATC Voice Communication Systems.
Florentina Stoica
PR Manager
florentina.stoica@TOPEX.ro
Phone: +40-21/4083900;
Fax: +40-21/4083909;
www.TOPEX.ro
###
Contact
Topex
Florentina Stoica
0041 21 232 04 24
www.topex.ro
tel: 0040743520944

Contact