WageWatch Releases Its 2011 Compensation Report for the Gaming Industry
WageWatch just completed this year's survey of actual wages of Nevada gaming markets, and the results for 2011 are drastically weaker than what was forecasted late last year for 2011.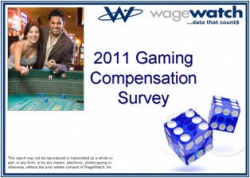 Scottsdale, AZ, November 09, 2011 --(
PR.com
)-- Michael Coringrato, Director of Survey Design at WageWatch, noted, "WageWatch just completed this year's survey of actual wages of Nevada gaming markets, and the results for 2011 are drastically weaker than what was forecasted late last year for 2011. Wages for the Nevada Gaming Industry were down for nearly all sub-markets." In November 2010, WageWatch reported that the Nevada Gaming Industry budgeted for an average annual wage increase of 1.5% for 2011, between zero and 3% with a median of 1.3%. Both WageWatch surveys included all non-executive salaries and wages for over 40,000 employees at 50 casino properties On and Off the Las Vegas Strip and other gaming markets in Nevada.
Industry analysts agree that the combination of high transportation costs, a weak job market, and slower than forecasted economic growth continue to impede the gaming industry recovery. An October 2011 report by the Las Vegas Convention and Visitors Authority disclosed that current occupancy rates are down in Las Vegas to below 2005 levels; although, 2011 room tax revenues are on par with 2005 performance.
However, not all Las Vegas casinos felt the weak economic effects to the same degree. The most recent WageWatch report discloses a stronger On Strip job market amongst non-exempt employees who saw wages improve 3.1%. There were some signs of increased demand in the non-exempt group in the secondary markets as well. Dealers in the Nevada markets, excluding Las Vegas, saw wages increase an average of 1.9%, while Dealers and Slot Floorpersons Off Strip saw wages inch up less than half of a percent.
Exempt positions saw dramatic wages fluctuations. Salaries for On Strip Table Games Floor Supervisors rose 0.9% and Slot Shift Managers in Nevada, excluding Las Vegas, increased 4.7%. These are just a few exceptions in an otherwise down market segment. Overall, exempt salaries reported fell 8.6% On Strip and more than 15% in both secondary gaming markets Las Vegas Off Strip and Nevada, excluding Las Vegas.
Trends indicate labor demand is strongest on the Las Vegas Strip, which has stronger support from the leisure travel, business, and convention segments. Off Strip gaming is dependent on On Strip overflow and Nevada residents. The demand for labor Off Strip is dramatically weaker due to both reduced occupancy rates and a cash strapped local population facing some of the highest rates of unemployment and foreclosures in the country. They see similar weakness throughout Nevada's secondary gaming markets.
"The Las Vegas Strip is more closely tied to national travel trends, which has improved but is not yet fully recovered from the recession," says Michael Coringrato, "However, Nevada's secondary gaming markets, which are tied to local conditions, will continue to lag in recovery until the economic recovery reaches the average Nevadan."
This November, WageWatch will conduct its annual Gaming Industry survey for budgeted 2012 wage increases. WageWatch is the industry leader in hospitality and gaming compensation data with over 5,500 properties represented nationwide. Contact us to learn more about participation and purchasing our survey reports.
About WageWatch
WageWatch (www.wagewatch.com), the leading Web-based source for compensation and benefits data, provides instantly accessible industry wage, salary and benefits data, delivered to any Internet-enabled device. WageWatch surveys industries and provides companies with the data they need to make their compensation and benefits decisions. For more information on WageWatch, visit www.wagewatch.com or call 888-330-9243.
###
Contact
WageWatch, Inc.
Travis Pullen
888-330-9243
www.wagewatch.com

Contact