Black Box Social Media Releases the 7 Minute Dashboard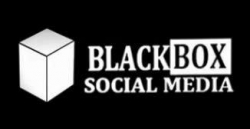 Austin, TX, November 10, 2011 --(
PR.com
)-- Black Box Social Media, LLC, creator of the revolutionary do it yourself online social media marketing training called "Social Media in 7 Minutes" (www.SocialMediaIn7Minutes.com) is now releasing access to it's all in one software tool called the "7 Minute Dashboard." The 7 Minute Dashboard is where you take everything learned in the Social Media in 7 Minutes training program and turn it into action on a daily basis by updating, managing, scheduling, and interacting with all of your social media channels in under seven minutes a day.
"There are 2 keys to the successful creation and implementation of a successful social media marketing plan," states Black Box Social Media (www.BlackBoxSocialMedia.com) co-founder Nick Bridges. "First, you must have a basic understanding of the social networking sites. Without this understanding, you can never envision the marketing possibilities. Second, you must have a simple way to implement your plan."
In fact, most social media campaigns that fail to live up to expectations fail because of poor implementation. This is where the 7 Minute Dashboard comes in.
The 7 Minute Dashboard is an all-in-one social media communicator. To understand the concept, consider how in Outlook, you can pull in your AOL, Gmail, Yahoo Mail, & Hotmail e-mail accounts all into one account. Instead of logging in and out of 5 different e-mail accounts, It's much simpler to manage your e-mail from one Outlook account location. This ease and convenience encourages you to check in and communicate via email more often.
This type of thinking is what created the 7 Minute Dashboard. From this one account, you can pull in all of your Facebook personal, Pages, and Group accounts, Twitter accounts, LinkedIn accounts & groups, and blog accounts to one place and engage with your friends, followers, or whomever is connected with you. You can add links, posts photos, share videos or just simply leave messages in specific groups of your choosing or on people's walls. Rather than logging into each site, you are able to engage with all social connections from one simple location in just minutes each day. Plus, with the 7 Minute Dashboard, you can set up auto responders, monitor your reputation, and view detailed reports that will show you what is working best for your social media marketing.
"Having a software tool that allows you to manage multiple social networking sites at once is a must," states Co-Founder Curt Maly. "Being able to schedule your posts in advance, monitor your online reputation, and mail out newsletters to keep in touch with your customers in a quick and simple method is the best way to ensure success in your social media marketing plan."
For more information and to watch a video demonstration of the 7 Minute Dashboard, please visit
http://www.youtube.com/watch?v=IrN18La_V6I
###
Contact
Social Media in 7 Minutes
Curt Maly
512-773-8538
http://blackboxsocialmedia.com
http://socialmediain7minutes.com

Contact
Multimedia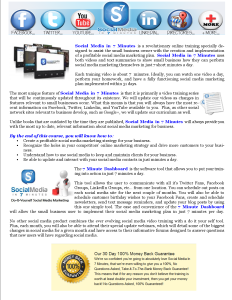 This flyer will detail how Social Media in 7 Minutes and the 7 Minute Dashboard work together to help small businesses create and implement a social media marketing plan.