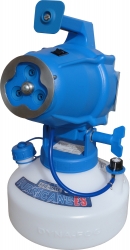 Westfield, IN, November 16, 2011 --(
PR.com
)-- When it comes to effective and responsible spraying, Curtis Dyna-Fog's latest innovation changes everything.
Introducing the world's most advanced spraying technology, now in the palm of your hand.
Made famous by the high quality automobile paint finishes of today, electrostatic spraying has been long awaited in the pest control industry. With the new release of the new Hurricane ES electrostatic portable ULV/Mist applicator, the solution can now fit right in the palm of your hand, literally.
While the concept of electrostatic spraying is not new (Curtis Dyna-Fog was issued it's first electrostatic patent back in 1985), recent advancements in the technology have now made it very affordable. By combining an exclusive high voltage circuit design into their 110 volt and 220 Volt powered sprayers, they have developed one of the world's first, low cost, hand carried models. This safe and effective technology electrically charges and creates an ionic air field around a 3-nozzle system. Atomized liquid is then directed through this field to achieve an electrically charged spray cloud that is propelled into the air seeking out the target and uniformly wrapping it with spray droplets. The entire unit is constructed of chemically resistant materials and weighs just 7.5 lbs. (3.4 kgs).
Excellent for applying water-base solutions for applying: odor neutralizers, insecticides, disinfectants, germicides, fungicides and many others.
The product is being sold though Aire-Mate® (www.airemate.com), an affiliate of Curtis Dyna-Fog.
For more information on this and other Curtis Dyna-Fog innovations contact:
Dennis Roudebush
Curtis Dyna-Fog, Ltd
Email: info@dynafog.com
Ph: 317-896-2561
www.dynafog.com
www.airemate.com
###