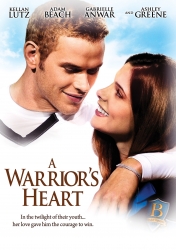 Santa Monica, CA, November 14, 2011 --(
PR.com
)-- Kellan Lutz, who co-stars in this weekend's #1 movie "Immortals" will be taking on his first starring role in the critically acclaimed "A Warrior's Heart." Written by Martin Dugard and directed by Mike Sears, "A Warrior's Heart" stars Kellan Lutz and Ashley Greene ("The Twilight Saga") Chord Overstreet ("Glee"), Adam Beach ("Cowboys and Aliens"), and Gabrielle Anwar ("TV's "Burn Notice").
Screened at the 2011 Cannes Film Festival to enthusiastic cheers, "A Warrior's Heart" will premiere in New York City and Los Angeles on December 2nd and open in select theaters around the country on December 9th.
Not only have early screenings of "A Warrior's Heart" been met with overwhelmingly positive reviews but fans of super hot stars Kellan Lutz, Ashley Greene and Chord Overstreet have been flooding Twitter to tweet news of the film's release.
Best known for their roles as Emmett and Alice Cullen in the "Twilight" movies, Kellan Lutz and Ashley Greene's incredibly moving performances have been getting a lot of positive buzz and the arduous training Kellan and co-star Chord Overstreet undertook to play star lacrosse players has earned critical praise at early screenings.
In shock and denial over his Marine father's death, high school lacrosse star Conor Sullivan (Kellan Lutz) starts acting out in self destructive ways including a violent on-field clash with his long-time nemesis (Chord Overstreet). To straighten him out, his mother (Gabrielle Anwar) sends him to a wilderness lacrosse camp run by his dad's Native American combat buddy (Adam Beach). Strengthened by the love and support from his girlfriend Brooklyn (Ashley Greene) Conor embraces the game's Native American roots and open his eyes to the true meaning of sportsmanship and life.
Producers Jamie Thompson, Steven Istock and Marc Spizzirri describe the movie as "a romantic and heartfelt family friendly teen love story."
About Xenon Pictures:
Established in 1986, Xenon Pictures is a film and media distribution company specializing in cutting-edge films, star-driven independent movies and other programming that may not necessarily fit the one-size-fits-all mentality of the major studios.
Xenon is committed to films and other programming that will provoke, excite and inspire. The company's corporate philosophy is simple: innovate, don't imitate; enter a niche and make a commitment to it; embrace filmmakers whose actions speak to their goals; and remain ahead of the curve, with the ability to think and execute in ways that the major studios haven't yet contemplated.
###