Single. Women. Entrepreneurs: Second Digital-Only Edition with Bonus Materials Now Released
The second and updated edition of the book, Single. Women. Entrepreneurs. exploring over thirty single women entrepreneurs' lives, is now available by author Erin Albert and Yuspie, LLC as a digital-only edition with bonus materials.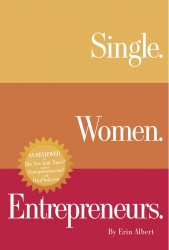 Indianapolis, IN, November 15, 2011 --(
PR.com
)-- Indiana author Dr. Erin Albert releases the second edition of her book exploring one of the fastest growing populations of entrepreneurs in the U.S.—the single woman. The second and digital-only edition features all the material in the first edition, with updates and bonus interviews.
"I wanted to release a second edition that was available in digital formats," said Albert. "I also wanted to add new material on other amazing women I met since publishing the first edition of the book." Featured in The New York Times, DanPink.com and Entrepreneur.com, readers requested an electronic format.
Danielle Klotz, owner of Pink Poppy Ink participated as one of the new interviewees: "I feel like a weight has lifted off my shoulders by letting everyone know my story and what motivates me, both as a business owner and a person," said Klotz. Other new interviews came from owner of Red Hot Roasters in Louisville, Sondra Powell, and Director/Producer of the documentary, Seeking Happily Ever After, Michelle Cove. Owner of Mocha Tree Organics, Kimberly Stepp, was another interviewee new to the second edition. "Sharing a piece of my legacy with like-minded women? What an Amazing experience!"
The book, Single. Women. Entrepreneurs., Second Edition is now or will be available on most major electronic formats, including Kindle (http://amzn.to/rADWhh), Nook, Kobo, iTunes Bookstore, ReaderStore, and Google eBookstore. It is also available from the digital publisher, ebookit.com, in several electronic formats: http://bit.ly./rWyOkW.
About Yuspie, LLC: Yuspie, LLC or Young, Urban, Single Professionals of Indiana is an informational resource and portal for the young professional of central Indiana. For more information on the company, logon to: yuspie.com. For more information on the author, Erin Albert, logon to her writing site at: erinalbert.com.
###
Contact
Yuspie, LLC
Erin Albert
317-698-3202
www.yuspie.com

Contact