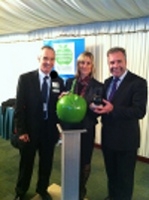 Manchester, United Kingdom, November 15, 2011 --(
PR.com
)-- Business intelligence (BI) software author, Intuitive Business Intelligence, has today been presented with a Green Apple Gold award in the Science and Technology category for their software solution,
Intuitive Dashboards
, an advanced dashboard software tool that dramatically reduces the environmental impact and costs associated with the production of management reporting. Intuitive Business Intelligence competed against more than 500 other nominations and was presented with their Award during a ceremony that took place at the House of Commons.
The Green Apple Awards, run by independent environment group, The Green Organisation, recognises companies that demonstrate environmental best practice and are established as one of the major environmental recognition schemes, both in the UK and internationally. Judges for the Green Apple Awards are drawn from the Environment Agency, the Chartered Institute of Environmental Health, the Chartered Institution for Waste Management and other independent bodies.
By providing an online-based reporting tool, Intuitive Dashboards enables organisations to drastically minimise their environmental impact across the entire printing supply-chain. Users of Intuitive Dashboards can eradicate the financial and environmental costs of printers and related consumables, energy consumption and the vast quantities of printed reports. Intuitive Dashboards is being used successfully by a number of organisations across a range of sectors to minimise their environmental impact.
Tony Bray, Managing Director of Intuitive Business Intelligence, comments, "We are extremely proud to win this prestigious award which demonstrates our commitment to meeting the environmental needs of organisations, while also providing a first-class dashboard solution that enables organisations to make faster, more efficient and more accurate decisions. Our dashboard software provides senior managers and directors with clear insight into their performance across every aspect of their organisation, allowing them to make timely and efficient choices enabling them to reduce costs, energy consumption and support their own environmental agendas."
For further information, contact:
Carrie Hamer
Marketing Manager, Intuitive Business Intelligence
e:
carrie.hamer@intuitivebi.com
t: 07554 881717
###