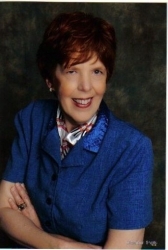 Webster Groves, MO, November 21, 2011 --(
PR.com
)-- www.depressiontorecovery.com - Cry Depression, Celebrate Recovery is the story of one woman's survival, struggle, and triumph over mental illness. On page ten of her new book, Barbara Altman describes her first psychotic hallucination at age six.
Excerpt from book:
With treasured ice cream in my small hand, I stepped on to the sidewalk. And then "there in front of me on the concrete, I saw an enormous, terrifying ant nearly as tall as me with huge feelers reaching out to attack…"
Shattered in a completely different way, ten year old Barbara slammed into the painful reality of her father's alcoholism.
Skipping from a warm and playful time in grandmother Tritz's kitchen to my house next door, I opened the kitchen door to a scene from hell. "I saw my father clutching both sides of the door jamb. Howling and moaning an agonized guttural sound…totally out of control. I began screaming inside and out." Such was the paralyzing sound of a chronic alcoholic.
For the next twenty chapters, Altman shares with her readers her long journey from illness to well being. Wanting desperately to feel normal, she explored both alternative and traditional treatments, some almost killing her and others improving her mental health.
Enter therapist Caroline Penberthy. Fifteen minutes into her first session in 1989, Caroline said, "'How much do you want to live?' My answer was stunned silence. 'I'll understand that to mean you don't want to survive.' Was she right? After all, what did I have to live for?" Altman's story is one of triumph, survival, and a passionate desire to help others achieve the same.
"I know the pain of mental illness, and I bless all those who devote their lives to assisting us." Within the first few pages, you will begin to understand the stark realities of psychotic events, alcoholism, and abuse. By the end, you will know that help and recovery can come from both medical and alternative approaches.
Altman is available for additional information and interviews and may be contacted at 314-962-5324 or AltmanB@sbcglobal.net. Review copies available upon request.
Contact: Barbara Altman
Email: AltmanB@sbcglobal.net
Phone: 314-962-5324
Barbara Altman, Background
Author Barbara Altman has lived her entire life in Webster Groves, a friendly college town/suburb of St. Louis. In her book, she describes the two notable exceptions of life in Larned, Kansas and in the Swiss Alps.
At age eight, she began piano lessons first with Mrs. Hans Lemcke and later with Mrs. Walter C. Tyler, both of whom lived within walking distance of her home. Three years later, her mother tired of hearing "Spinning Song," and presented Barbara with the sheet music to Grande Waltz in E-flat Major by August Durand, and Barbara seriously fell in love with her piano.
Music proved to be a welcome therapy for her. She often turned to the classics to soothe the pain induced by life with an alcoholic parent and a troubled mind. As a teenager, she began to experience symptoms of depression with increased psychotic manifestations. The course of her life since then has been defined by her involvement in music, music therapy, and the pursuit of mental health using both traditional and alternative healing modalities.
Her twin passions today are to encourage those with mental illnesses and those who care about them and to share her joy of music with the world.
In the eight years it took Barbara to produce and refine Cry Depression, Celebrate Recovery: My Journey Through Mental Illness, she continued giving piano lessons in her home and sharing her joy of music with preschool groups and nursing home residents.
Barbara thoroughly enjoys sharing her experiences about her recovery and about the soothing and uplifting aspects of music. You can contact her at 314-962-5324 or at AltmanB@sbcglobal.net. Review copies are available upon request.
###