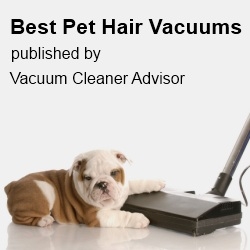 Seattle, WA, November 23, 2011 --(
PR.com
)-- Americans love their pets. In fact, roughly two-thirds of US households share their homes with animals. As lovable as they are, cats and dogs - the country's most popular pets - shed huge amounts of hair, presenting a real cleaning challenge for their human owners. Fortunately, help to keep those fur balls and dander under control is at hand. Enter the pet hair vacuum cleaner, a machine that excels at pulling up pet hair from bare floors, carpet and upholstery.
This month
Vacuum Cleaner Advisor
has published its list of the best pet hair vacuums. The list is comprised of 4 machines from manufacturers such as Miele, Hoover, Dyson and Bissell. Vacuums have been chosen based on their prowess at removing pet hair from different surfaces as well as their overall consumer ratings and length of warranty.
Heading the list is Miele's Cat & Dog upright, bagged vacuum cleaner. This machine is not cheap but it is a favorite with pet owners. It includes a pet hair turbine tool, activated carbon in the filter for removing odors, and a 2-fan motor that produces powerful suction. The Cat & Dog is also manufactured in Germany and carries a 7-year warranty on the motor. Consumer comments and ratings for this vacuum indicate a very high level of owner satisfaction.
A close second on the list is the Dyson
DC25 Animal
. This bagless vacuum cleaner is well-known and very popular. Consumer ratings usually give this machine about a 9 out of 10 and it also carries a lengthy 5-year parts and labor warranty. The DC25 Animal is certified asthma friendly by the Asthma and Allergy Foundation of America and it comes with a lifetime washable HEPA filter as well as a pet hair turbine tool.
Representing Hoover is the UH30060, the most affordable full size vacuum in the Best Pet Hair Vacuums list. It can be found online for about $150 at certain outlets and sports HEPA filtration, Hoover's patented Clean Drop Bags system and an air-driven hand tool for picking up pet hair from upholstery and stairs. The vacuum also has 7 different height settings allowing one to ensure an optimal cleaning distance between the motorized brushbar and the floor. The UH30060 has a 2-year warranty.
The list is rounded out with a Bissell handheld unit, the Pet Hair Eraser. It is powered by a 4 amp motor and is corded, as opposed to operating on batteries like many other hand vacs. It is very well-liked by owners and is powerful, inexpensive and impressive when it comes to dealing with animal hair.
Read more about these machines and view the complete Best Pet Hair Vacuums list at vacuum-cleaner-advisor.com, the website that has been providing unbiased vacuum cleaner reviews and ratings for uprights, canisters, stick vacs and handhelds for over four years.