Sri Lanka Produces the World's Best Sapphires, Found in Crysobel Earrings
The Crysobel Jewelry Collection uses precious gemstones including the world's most exquisite pink, blue and white sapphires imported from the designer's homeland of Sri Lanka.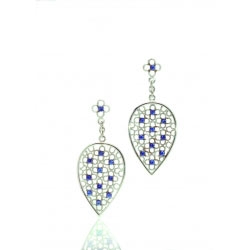 San Francisco, CA, April 26, 2007 --(
PR.com
)-- Crysobel's line of gold and precious gemstone earrings are the creation of jewelry designer, Gaitri Chandra Raj, a native of Sri Lanka, who now resides in San Francisco, CA. Gaitri drew upon her eastern roots to conceive of Crysobel (www.crysobel.com). Gaitri Chandra Raj incorporates precious and semi-precious gemstones, including brilliant sapphires, from her homeland of Sri Lanka, known to mine and produce the world's most beautiful sapphires, including a 400 carat stone, the largest sapphire on the British Crown. Sri Lanka ranks among the top five gem producing nations in the world.
Pink, white, and of course blue Sri Lankan sapphires can be found adorning the creations of The Crysobel Collection. Sapphires are set into magnificent 18K white and yellow gold filigree tear drop earrings, one of Crysobel's signature pieces. Crysobel's Sri Lankan sapphire earrings look flawless with a stunning translucent sparkle. Sri Lanka's reputation for producing jaw dropping gemstones dates all the way back to 1292, when Marco Polo landed in Sri Lanka and declared it, "The finest island in the world," going on to say, "from its streams come sapphires, rubies, garnets, amethysts, and topaz." Royalty has long drawn upon Sri Lanka's jewels, with King Solomon reportedly wooing The Queen of Sheba with Sri Lanka's precious gems. Sri Lanka is truly the "Jewel Box of the Indian Ocean." It is no wonder that earrings designed by Crysobel create an instant regal flair and brilliant elegance, the minute a woman puts them on.
Crysobel's exclusive collection of earrings consists of a wide variety of styles to fit tastes that range from the extravagant to the more subdued. Styles such as two and three tiered chandelier earrings clustered with black diamonds or red garnets, tear drop filigree earrings sprinkled with the world's finest sapphires, pearl or garnet embellished hoops, traditional Sri Lankan inspired dome chandeliers, 18K white and yellow gold drop earrings and 18K white and yellow gold hand hammered earrings. Retail prices range from $300.00 to $3000.00 a pair, and are currently available for purchase through www.crysobel.com. Crysobel is currently designing their bracelet collection and custom pieces are available upon request.
About Crysobel Jewelry
Crysobel is a fine jewelry collection inspired by the artistry of the designer's eastern roots, blended with the sophisticated elegance of her current western urban lifestyle. Earrings are crafted in 18K white and yellow gold, highlighting precious and semi-precious gemstones imported from her native, Sri Lanka. Crysobel earrings display such rare gems as black diamonds, red coral, cultured pearls, hessonite garnets, citrines, rubies and the world's finest Sri Lankan orange, white, pink and blue sapphires. For more information visit www.crysobel.com.
For line sheets and additional press information contact:
Allison Dawn PR
Allison Kugel
Tel: 516-942-0264
Email: AllisonDawnPR@aol.com
###
Contact
Crysobel
Allison Kugel
516-942-0264
www.crysobel.com
www.allisondawnpr.com

Contact