Living Christmas Tree Brightens Distant Family Christmas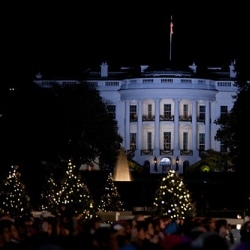 New York, NY, November 25, 2011 --(
PR.com
)-- The National Christmas Tree in Washington DC, is scheduled to be illuminated on Thursday, December 1, 2011 and NBC continues to roll out the holiday festivities on Wednesday, November 30, 2011 (8-9 p.m. ET/PT) with The Rockefeller Center Christmas Tree in New York NY, one of the season's most treasured traditions, the 79th annual tree lighting extravaganza dates back to the Great Depression. Bringing the holidays home, June Blunt of Aruntx.US Premium Shopping, a division of Aruntx Publishing Company, in a recent interview stated "Consumers are increasingly using the online Aruntx Shopping Marketplace to complete their holiday shopping needs and purchasing easy to care for Live Table Top Christmas Trees which brighten the Christmas Holiday Season for distant family and friends, delighting the eye and promulgating the holiday spirit with lovely holiday season aroma, an elegant way to honor the season." Blunt articulated, "Our live two foot tall Alberta Dwarf Spruce Christmas Trees easily fit on a tabletop, with hand-crafted beautiful decoration are hand-selected to ensuring freshness and the Aruntx high standards for shape, fullness, color and quality. Aruntx provides the freshest, most beautiful trees available, includes free Christmas card with note inscription exhibiting Santa Claus, free hot chocolate and candy canes, the option of sparkling color or brightest white lights and charity donation, with free telephone support and UPS Tracking Notification Service for delivery right to your door."
Live Table Christmas trees are ideal for holiday celebration and according to reliable sources when planted outdoors provide long-term benefits for both the environment and the landscape long after the Christmas season. When Arbor Day comes around you can transplant the tree in your garden where it will continue to grow for decades, not only providing habitat for birds and wildlife but replenish the air with oxygen, increases soil stability, and generally makes the landscape more beautiful. Live Christmas Trees are grown on farms just like any other crop and to ensure a constant supply Christmas Tree growers plant one to three new seedlings for every tree they harvest. Blunt added "There is nothing better than a fresh Christmas tree for the holidays."
About Aruntx Publishing
The Aruntx Publishing Company goal is to promote a healthy environment and a peaceful, sustainable world by spreading environmental awareness. We must continue our work to ensure that with each new dawn, the sun shines through clear skies and upon clean waters and all our families enjoy the blessings of good health. The Aruntx Publishing properties include the online publication Environmental News, Cultural News, Publishing Industry Review, a line of annual preview magazines, cultural licensing ventures, book publishing, complex software solutions, radio show, podcasting and Aruntx.US a premiere showcase shopping site.
For more information, reporters may contact:
Jennifer Ledger,
A2AD Newswire
Two Fifth Avenue
New York NY 10011
Telephone: 646-248-6270
###
Contact
A2AD
Jennifer Ledger
646-248-6270
a2ad.com/

Contact