Seasons Winnings, Hosted by Red Flush and Casino La Vida, Gets Underway
Red Flush and Casino La Vida celebrate the Holiday Season with the start of Seasons Winnings.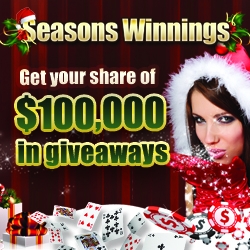 Johannesburg, South Africa, November 29, 2011 --(
PR.com
)-- The anticipation is finally over after Red Flush and Casino La Vida announced the start of Seasons Winnings. This year, the event will run from November 28, 2011 until January 8, 2012 and give online casino players the chance to celebrate the Holiday Season with 42 days of festive giveaways.
"Seasons Winnings is underway and we're inviting everyone to join the festivities for a share of $100,000 in giveaways," said Alex Roberts, Red Flush Promotions Manager, this week.
Seasons Winnings was first introduced as a leaderboard tournament in 2010 to coincide with end of year celebrations worldwide. Unlike its predecessor, however, Seasons Winnings will this year comprise of daily promotions that are neatly displayed on the Seasons Winnings Calendar. The calendar can be viewed via the
Casino La Vida Seasons Winnings
or
Red Flush Seasons Winnings
website.
As part of the festivities, Seasons Winnings will offer players the opportunity to claim 5 complimentary spins on Santa's Wild Ride every day for 42 days. Details on how to qualify for the freespins can be found on the above mentioned websites.
Online casino players that don't have a casino account but wish to participate in the Seasons Winnings promotion can visit
Red Flush Casino
or
Casino La Vida
to sign up.
"Seasons Winnings is our way of thanking players for their loyal support throughout the year," added Roberts, "and we trust that they're going to enjoy the many surprises that lie ahead."
###
Contact
Red Returns
Sean Deville
1-888-885-4517

Contact