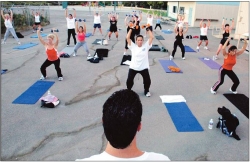 Rancho Santa Margarita, CA, December 16, 2011 --(
PR.com
)-- If you feel like you have done more giving than getting during the holiday season, here's a great present for you: John Spencer Ellis is now offering three free fitness gifts on his PersonalTrainerTools.com website. The fitness and personal development guru is giving away three valuable reports designed to help with success in the training or fitness industry: Free Traffic Marketing Report, Video Marketing Secrets and Video Blog Sensation.
The free special reports provide specific insider strategies designed to help trainers, coaches and fitness pros quickly launch and grow a successful fitness and coaching business. In addition, the Personal Trainer Tools website is dedicated to offering career training, business coaching and easy-to-implement blueprints for coaching and fitness training.
"Each of these free online reports contains key information that personal trainers and coaches need to be successful in the business today, from social media to websites to videos and more," said Ellis. "These ideas and this information can help trainers go from struggling to successful in just months, and they can be read and implemented at your own pace, depending on your personal goals."
To sign up for the three free online reports, fitness pros can visit www.personaltrainertools.com and provide an email address as indicated in the middle of the page. All of the reports will then be available for free online download. The Personal Trainer Tools site also offers a variety of links to exercise and nutrition programs, FitNews.TV, John Spencer Ellis' personal fitness blog, certification resources and much more.
"I have made it my life's mission to help fitness, wellness and coaching professionals reach high levels of financial and personal prosperity, which is why I wanted to offer these free gifts and all of the information they contain," Ellis added.
About John Spencer Ellis Enterprises
John Spencer Ellis Enterprises is a solutions provider for fitness and coaching professionals around the world, providing education, turn-key business programs, coaching and resources for new and advanced fitness and coaching professionals. For more information about John Spencer Ellis Enterprises or to receive the three free online fitness reports, please visit
http://www.personaltrainertools.com
###