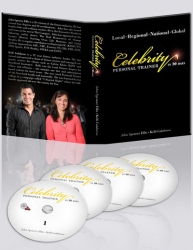 Rancho Santa Margarita, CA, December 14, 2011 --(
PR.com
)-- If you could have dinner with one famous person, who would it be? Perhaps even more interesting, if you could train one celebrity, who would you select? The Celebrity Personal Trainer in 30 Days program can help you achieve your personal training dreams while learning more about working with celebrities.
The unique celebrity training program was developed by John Spencer Ellis, founder of John Spencer Ellis Enterprises, a personal development and fitness solutions company, and nationally-known trainer, and Kelli Calabrase, who has hosted more than dozen media tours and has been named Personal Trainer of the Year three times. The two have both worked with a variety of celebrities and share 50 years of experience in fitness management, TV and movies, professional speaking and more. They developed the program to leverage their expertise and provide more personal fitness trainers a clear path to celebrity training in their area of expertise.
"Whether you are hoping to be featured on TV, host an infomercial, work with local or national celebrities, or become a household name, this program teaches you how to make your mark as a celebrity personal trainer and make the media your best friend," said Ellis. "I really enjoy interacting with friends and fitness pros around the world and giving them more of the information and education they need to be successful."
In addition, the celebrity training online program teaches trainers how to get book deals, attract sponsors, develop a media and training niche, create an effective website and use YouTube to increase recognition, acquire the most important certifications and education, stand out in a crowd of trainers, develop a personal DVD, increase earnings, develop an ongoing client base and more.
"The Celebrity Personal Trainer in 30 Days program was of great value to me. It was very informative and instantly increased by confidence in my ability to become even more recognized in my area and in the fitness industry," said celebrity personal trainer, Mike Z. Robinson. "I'm really impressed with how detailed this program is, and I highly recommend this program to anyone looking to increase their popularity as a personal trainer!"
About John Spencer Ellis Enterprises
John Spencer Ellis Enterprises is a solutions provider for fitness and coaching professionals around the world, providing education, turn-key business programs, coaching and resources for new and advanced fitness and coaching professionals. For more information about John Spencer Ellis Enterprises or to learn more about becoming a celebrity personal trainer in just 30 days, please visit
http://celebritypersonaltrainerin30days.com/
###