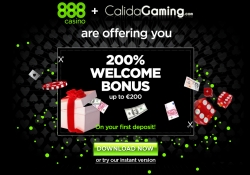 Guernsey, Guernsey, November 30, 2011 --(
PR.com
)-- Calida Gaming is a leading name in the gambling comparison industry and has partnered with 888 casino to bring it's players a very special exclusive deal which doubles the standard welcome bonus package available through the 888 casino site.
Established in early 2007 Calida Gaming is operated by Wild Dog Productions (Guernsey) with its board of Directors having a family history in the UK gambling industry stretching back some 84 years.
Not content to simply be another player in the industry Calida Gaming strive to innovate and have launched a new updated website and operate their own web TV studio to bring not only the latest deals and places to play but also add some entertainment into the mix.
Leading the team of presenters is Lindsay Robba who amongst many other things recently starred in the feature film "Open Graves." Whilst presenting for Calida Gaming however there is almost no horror involved.
With a view to the global gambling market Calida Gaming boast players from all four corners of the globe and cover all the main gambling niches,
Online Casino
,
Bingo
,
Poker
and
Sports Betting
. Having been around in the industry for so long, delivering a service that enables players to get a fair deal as well as an exciting one is key to their strategy.
Founder Tim Johnson said, "We know what our players are looking for and we know the web is awash with casino's and offers, what we strive to do is guide them using quality not quantity so the player can be sure their money is always safe."
When asked about the future plans Mr Johnson said, "The industry is still growing at a fantastic rate and it's more important than ever to guide new players in the right direction and that's what we will continue to do, on the fun side we will be live with our Calida Gaming TV show very soon and hope to entertain our players at the same time."
As if to prove their commitment to getting the very best deals for their players, Calida Gaming today announced not only a fantastic deal with 888 Casino but also another exclusive deal with Winner Casino, running on the trusted Playtech software Winner is a good fit with Calida Gaming.
Calida Gaming's players can now get an exclusive no deposit casino bonus from Winner casino. This together with the many other deals that Calida Gaming offer shows just how strong their commitment is to their players success, and why their model works the world over.
###