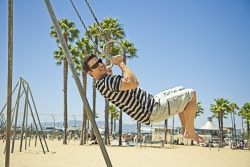 Rancho Santa Margarita, CA, December 07, 2011 --(
PR.com
)-- Facebook can highlight personal photos, promote special offers and offer up-to-date information, on both hard news and light gossip. To build on the power of social media in the fitness industry, John Spencer Ellis, the founder of John Spencer Ellis Enterprises, a leading national fitness and personal development solutions company, is now using his Facebook page to take questions from personal trainers and other fitness pros and then respond to the queries via his video blog.
Recent questions and responses have revolved around new ways to build personal training clientele, the state of the fitness and coaching industry, licensing and regulation, effective old-school training methods, client follow-through and follow-up, and more.
"Facebook can be fun and social, but it can also be very educational. I wanted to use social media to get to the heart of the matter and help more struggling fitness pros get the answers and results they need," said Ellis. "I really enjoy interacting with friends and fitness pros around the world and giving them more of the information and education they need to be successful."
Coaches, personal trainers and fitness pros can find John Spencer Ellis on Facebook at https://www.facebook.com/pages/Dr-John-Spencer-Ellis/107579605490 and submit their own fitness-related questions.
"We all know how far-reaching social media is these days. Anyone in the fitness industry will benefit tremendously from the power of social media, so this is just fun another way to integrate education and outreach," Ellis added. "And it's always a great way for me to interact with others – I learn a lot whenever I receive questions and responses from other fitness pros."
About John Spencer Ellis Enterprises
John Spencer Ellis Enterprises is a solutions provider for fitness and coaching professionals around the world, providing education, turn-key business programs, coaching and resources for new and advanced fitness and coaching professionals. For more information about John Spencer Ellis Enterprises or to submit a future fitness question for a video blog, please visit
http://johnspencerellis.com/answers-to-important-questions-about-your-fitness-and-coaching-career-video/
###