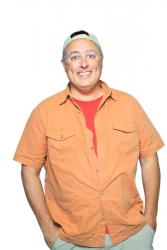 Toronto, Canada, December 13, 2011 --(
PR.com
)-- G Adventures, the world's adventure travel leader, teams up with Gary Arndt, a
Wanderer in Residence
and creator of
everything-everywhere.com
, to co-host an exclusive photography tour. Departing May 5, 2012 the
Great Wide Everywhere
trip explores a number of celebrated national parks and natural wonders around the San Francisco and Los Angeles areas, offering travellers a unique opportunity to travel, learn and build their photography skills alongside one of the world's most influential travel bloggers.
"There's no doubt that a large part of any travel experience is photography – capturing those picture-perfect moments. I've been very fortunate and have had the opportunity to document and explore many regions of our planet," says Arndt.
"I'm excited to share my love of photography and travel with others on this trip," adds Arndt. "The tour visits many iconic sites that will serve as the perfect backdrop and subjects for photo shoots."
Throughout the 15-day adventure ($2299 USD), travellers will receive hands-on training and participate in a number of guided shoots, covering a wide variety of topics and techniques. Daily review sessions will also create opportunities to learn more about the craft of photo editing.
Tour highlights include an evening photo walk of Las Vegas' infamous strip and visits to the Grand Canyon and Yosemite National Park. In San Francisco, travellers will have the chance to photograph the Golden Gate Bridge and Muir Woods National Monument.
Only 11 spaces are available on the tour.
Win a Free Trip
For two weeks beginning January 2, 2012, travel and photo junkies will have the opportunity to win a spot on the exclusive adventure. To enter, contestants must visit
www.everything-everywhere.com
. The winner will be announced on January 16, 2012.
For more information or to make a reservation please visit
www.gadventures.com/NUNPP
,
www.everything-everywhere.com
,
www.facebook.com/gadventures
and
www.facebook.com/EverythingEverywhere
.
About Gary Arndt
Gary Arndt has been traveling the world since 2007, and has become one of the foremost travel authorities on the internet. He blogs at Everything-Everywhere.com which has been named by Time Magazine as one of the Top 25 Blogs on the Web. As an award winning travel photographer and a member of the G Adventures' Wanderers in Residence program he has become a popular source of travel inspiration online.
About Wanderers in Residence
As G Adventures ambassadors who have been globetrotting for a combined period of over 15 years in more than 350 countries, the industry-leading bloggers embark on various trips and provide ideas and feedback on the tours. Stories, photographs, videos and experiences from the road, along with travel tips, expertise and advice, are shared on the Wanderers in Residence blog, in addition to their own online communities of more than 242,800 followers. To learn more please visit www.gadventures.com/blog/wanderers-in-residence/.
About G Adventures
G Adventures is a world leader in the adventure travel industry offering small group adventures to over 100 countries to more than 100,000 global travellers annually. The award-winning trips, which focus on culture, nature and active travel, are ideal for those with a sense of adventure – people who want to leave the beaten path and authentically immerse themselves in a local culture or environment to experience the real world in a sustainable manner. Demonstrating its ongoing cultural, social and economic commitment to responsible tourism, G Adventures established the Planeterra Foundation, as a way the company and its travellers can give back to the communities visited. For more information, please visit www.gadventures.com and www.planeterra.org.
###