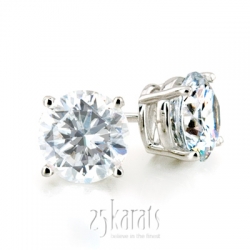 New York, NY, December 17, 2011 --(
PR.com
)-- Wondering what to get that special someone in your life? Just in time for Hanukah and Christmas,
25karats.com
has taken fine diamond jewelry to the next level with their newly launched diamond stud earrings collection.
Made in the same tradition as their renowned diamond engagement rings and wedding bands, the 25karats diamond stud earrings are a study in effortless elegance and sophisticated style. Customers are already clamoring to place their orders for the collection, resulting in a predicted 20% increase in sales over the 2011 holiday season.
"Our diamond stud earrings make the perfect gift for loved ones this holiday season," says Matt Aksu, CEO and the President of 25karats.com. "Customers can receive the brilliant and classic look of a 25karats diamond, and experience the same dedicated customer service for which we're famous.
"And of course, only 25karats.com offers affordable yet luxurious diamond stud earrings, perfect for any budget," Aksu adds.
25karats.com offers a comprehensive selection of diamond stud earrings. Their new collection includes round and princess-cut diamond stud earrings, all of which are highlighted in either a 14k gold or platinum setting. Diamond sizes range from 0.25 carats to 2.00 carats, which means that customers will always find something that fits their budget. Diamond grades include I-SI3, H-SI2, G/H-SI1, and G-VS2.
In addition to this great selection, 25karats provides customers with the means to order larger earring sizes. It's just another example of the dedication to customer satisfaction that 25karats.com has become so well-known for since its founding in 2008.
"We're proud to launch this truly special diamond stud earring collection," Aksu says. "After all, engagement rings and wedding bands shouldn't be the only ways customers can experience 25karats.com!"
About 25karats.com:
25karats.com was established in 2008 by a team of experts with many years of experience in both jewelry industry and e-commerce with a simple goal of providing the best online jewelry shopping experience for their customers. By controlling their sourcing, manufacturing, and product distribution, 25karats can bring fine jewelry to the public at exceptional prices while raising the quality bar on the competition.
25karats has offices at the heart of Manhattan's Diamond District, which allows for immediate access to some of the best resources in the jewelry industry, both locally and worldwide.
###