Stop Counterfeiters: Rock & Roll Trunk Show Showcases Authentic Femme Metale Jewelry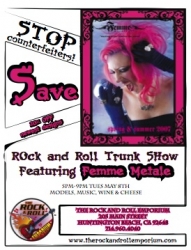 Huntington Beach, CA, May 03, 2007 --(
PR.com
)-- Femme Metale jewelry designer, Leslie Homan, and The Rock and Roll Emporium (RARE), an eclectic Rock boutique, are hosting a unique trunk show to increase awareness and stop counterfeiters who manufacture and sell unauthorized knock-offs of original designs. The event takes place the Tuesday before Mother's Day during the Surf City Nights Street Fair May 8 from 5p.m. to 9p.m. at The Rock and Roll Emporium, 205 Main Street in Huntington.
Designer Leslie Homan will be on site to personally present her newest collection of original sterling silver jewelry and to show collectors how to recognize her authentic designs which have been worn by Christina Aguilera, Kat Von D, Brittany Murphy, Avril Lavigne, Angelina Jolie, Johnny Depp, Dierks Bentley, Zulu, Scott Weiland, and the Divas of the WWE to name a few.
Leslie Homan works very hard to create unique and original sterling silver Rock & Roll-inspired jewelry. Several large and well-known companies have counterfeited her designs and legal action is being taken against them.
Unscrupulous manufacturers have blatantly produced lesser-quality copies of Femme Metale's protected designs and sold them to large retail chains as their own. Consumers have also purchased copycat designs from large chain stores that have knowingly sold knock-offs in an effort to undercut the marketplace. For these corporate giants, stealing the designs has been far cheaper than hiring their own designers. One reason counterfeiting continues to be a problem is that most small designers can't afford to fight back.
Femme Metale Inc. and Leslie Homan are aggressively pursuing these companies in Federal court. "I don't care what it costs I am fighting back...someone has too!" said Leslie. "Maybe if more designers fought back the big corporate thieves would stop this illegal and unethical practice. Copyright infringement is a federal offense and can come with some heavy fines. It is stealing plain and simple!"
The Rock and Roll Emporium carries a selection of Femme Metale designs as well as other authentic, original Rock & Roll memorabilia. The store hosted a similar event June of 2006, but popular Femme Metale original designs continue to copied illegally. The store hopes that hosting this event during the busy Surf City Nights Street Fair will bring far more attention to the issue.
"Authenticity is a very serious issue," said Andrew Kirby, managing partner of the Rock and Roll Emporium. "Piracy and counterfeit operations take money from the original artists and companies who properly license their works and puts it in the hands of criminals – and not just the thieves who are stealing the art, but this money can be traced to terrorism, drug smuggling, child labor and numerous other forms of criminal activity. We will continue to support artists and companies like Femme Metale who work very hard to eek out a living on their creativity."
Femme Metale has been featured in top fashion publications including: "Teen Vogue," "Cosmo Girl," "ELLE Girl," "Lucky," "Cosmopolitan," "J-14," "Twist," "Lemonade" and "In Style." Homan also designs for Heavy Metalworks which features ultra masculine mens' designs.
The Rock and Roll Emporium is a leading resource for those who want to live the "Rocker Lifestyle" and is a major attraction for downtown Huntington Beach, CA--Surf City, USA. The store has collected authentic autographed guitars; drum heads, photos, collectibles and Rock & Roll-inspired apparel and accessories from many of the best-known and respected artists in the world.
###
Contact
The Rock and Roll Emporium
Kate Kirby
714-960-4040
www.therockandrollemporium.com
714-716-7655 (cell)

Contact