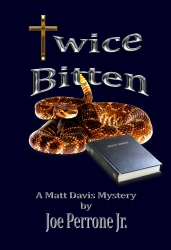 Hendersonville, NC, January 03, 2012 --(
PR.com
)-- Joe Perrone Jr, author of the Matt Davis Mystery Series, has announced that January 15, 2012 will be the release date for "Twice Bitten," the third book in the ongoing series. The first two books have enjoyed tremendous success, with both "As The Twig Is Bent" (the initial offering) and "Opening Day" (its successor) being consistently ranked in the top 100 of best selling police procedurals in the Kindle Book Store. Mystery fans have taken a real liking to Matt Davis, the plodding but effective detective with a penchant for fly fishing and chocolate.
"As The Twig Is Bent" is a graphic thriller set in New York City that explores the link between Internet sex chat rooms and a serial killer who uses them to find his victims. Throw in a religious connection, and you have the makings of a best seller that has been ranked as high as #24 in its class in the Kindle Book Store. The book was recently translated into the Portuguese language as "Pau Que Nasce Torto." Plans are underway to translate the other Matt Davis Mysteries into Portuguese in the near future.
"Opening Day" is a mystery of an entirely different order that sees its protagonist, Matt Davis, leaving the big city to take a position as Chief of Police in a small, Upstate New York fishing village. While out fishing on opening day of trout season, he discovers the remains of a murder victim, whose very identity remains a secret, along with that of the killer, until the very end of this jigsaw-puzzle murder mystery.
The new book, "Twice Bitten," finds Matt faced with solving a murder involving a deceased Methamphetamine dealer, whose distant past is the only connection to the unlikely person who murdered him. Along the way, readers are treated to a glimpse into the world of Pentecostal snake handlers and those who follow them.
"As The Twig Is Bent" and "Opening Day" are currently available in regular and large print paperback editions, as well as in Kindle and other Ebook formats for iPads and Nook users.
Fans of the series can obtain a signed, Pre-publication Special Edition copy of the book at a reduced price by going to the author's website at: www.joeperronejr.com. The offer ends January 15h.
Interview requests and requests for review copies should be directed to the author via email at: Joetheauthor@joeperronejr.com.
###