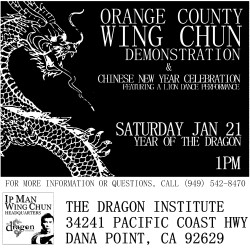 Dana Point, CA, January 10, 2012 --(
PR.com
)-- Orange County Wing Chun school, The Dragon Institute, will hold a Chinese New Year celebration on Saturday, January 21st from 1pm-3pm at 34241 Pacific Coast Highway in Dana Point.
The celebration will feature a martial arts demonstration by students of the Orange County Wing Chun school and also include a traditional lion dance performance, Chinese tea tasting, acupuncture, herbal medicine and qigong.
In Chinese culture, Chinese New Year is is the most important traditional holidays. Chinese New Year traditions incorporate elements that are symbolic of deeper meaning.
This year is the legendary Year of the Dragon, the mightiest of the signs. It symbolizes passion, ambition, independence and success.
About Wing Chun
Wing Chun is the Chinese close-quarters fighting art known for its practical hand-to-hand combat abilities. It is used by the Chinese Army as well as hundreds of military, self-defense experts & law enforcement agencies around the world including the US Navy Seals, FBI, CIA, French RAID and German SEK. Wing Chun's effectiveness is achieved through its efficiency, leverage and scientific movement rather than through brute strength or fancy techniques. It teaches the student to use their opponents force and movement against them in order to overcome larger and stronger attackers.
About The Dragon Institute
The Orange County Wing Chun school is located right on PCH in Dana Point, is an internationally accredited, award-winning Orange County Wing Chun school. It offers 28 different Wing Chun adult classes, 36 different kids Wing Chun classes and 16 different qigong classes. For adults and seniors, The Dragon Institute offers practical self-defense, qigong and mind/body awareness training. For kids, it specializes in the developing focus, discipline and respect with through confidence building and leadership training. The Orange County Wing Chun school is proud to represent the Ip Man method of Wing Chun. Ip Man is the celebrated teacher of Bruce Lee credited with being the Grandmaster of Wing Chun.
For more information, contact The Dragon Institute at (949)542-8470 or visit the Orange County Wing chun school's website at
ocwingchun.com
.
###