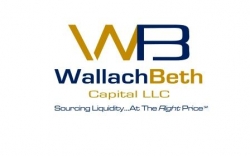 New York, NY, January 11, 2012 --(
PR.com
)-- WallachBeth Capital LLC ("WB"), the institutional brokerage/execution firm specializing in exchange-traded funds (ETFs), equities and options, today announced its further expansion with the addition of two more industry veterans to the firm's ETF execution division, one of the leading ETF desks in the Industry. Chris Hempstead, a 20-year trading market veteran joins as Director of ETF Execution, and Dong Lee, a 12-year ETF product specialist, joins as Director of Institutional Sales.
According to Michael Wallach, co-founder and CEO of WallachBeth, "The continued growth in the ETF product arena, coupled with our firm's unique approach to true best execution has struck more than a chord with the institutional investor community, and has required us to continuously ramp up our infrastructure with the Industry's most talented individuals. Both Chris and Dong will add further depth to a team that's become widely-recognized throughout the ETF landscape."
Hempstead most recently ran the ETF desk at Cowen & Company, and spent the majority of his career as a major exchange specialist responsible for ETF market-making for a broad list of issues. He stated, "However transparent ETFs may be, the fact is, the marketplace is fragmented by the numerous screen-based, as well as 'hidden' market centers. As a consequence, a vast number of issues often appear to be less liquid than they really are. By utilizing WallachBeth's deep pool of liquidity providers, many of whom focus only on specific issue types or sectors, my role is to help our clients efficiently source that liquidity and further enable our desk to deliver the best prevailing prices for hard to execute, and potentially market-impacting trades."
Lee joins the firm after almost 4 years with The Vanguard Group, the Industry's third largest ETF issuer by assets, where he was responsible for ETF distribution for the firm's institutional clients. Prior to that, he spent 8 years as a VP of Institutional Sales for Legg Mason, the global asset management firm. Noted Lee, "Having spent much of my career developing relationships for the community of prominent asset management organizations, the opportunity to join a leading execution firm is both a natural and exciting segue that allows me to deliver enhanced value to those relationships."
About WallachBeth Capital LLC
WallachBeth Capital LLC operates on a fully-disclosed, agency-only basis while serving the needs of institutional fund managers, premiere hedge funds, sell-side trading desks, and sophisticated professionals trading in the wide-spectrum of ETFs, exchange-listed and OTC equity options, listed and OTC equities, and non-US equities. WallachBeth is a member of FINRA, SIPC, ARCA, CBSX, and ISE. The firm's website is located at
www.WallachBeth.com
.
###