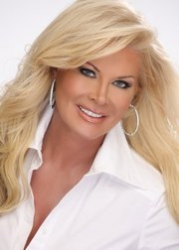 Atlanta, GA, January 14, 2012 --(
PR.com
)-- The opportunity to review exciting, unique products such as the PillowTalk Pillow and the Teddy BAG, a contest to win an Apple® iPad and an invigorating conversation with award-winning author, Theresa Roemer. That's the full package that visitors can look forward to at the Atlanta International Gift & Home Furnishings Market. The show runs January 13-17 and Theresa Roemer, will be at Building 3, 5th Floor, Booth 314 to chat with visitors. Theresa is co-author of the Indie Excellence Book Award winner, Nude: Unveiling Your Inner Beauty and Sensuality.
Speaking about the book, Theresa says, "Kym Jackson and I are two close friends who were having a conversation about what being 'nude' meant to us. It ended up with us writing a book to share tips and offer advice to women on how to enrich their lives, enhance their marriages, re-infuse passion into their partnerships and spice up their romances. Our book, Nude: Unveiling Your Inner Beauty and Sensuality, aims to help women be themselves so they can feel sexy and sensual again, and enjoy it!"
Visitors to Theresa's booth can enter a drawing to win an iPad; there are three ways to win:
1) Sign up at the booth to "like" Kym & Theresa on Facebook
2) Sign up at the booth to follow Kym & Theresa on Twitter
3) Buy an eBook version of their book at the booth
On display at the Atlanta show will be a line of Kym and Theresa's innovative products including the Teddy BAG and the Pillow Talk Pillow.
The Teddy BAG really looks like a teddy but is actually a "nude necessities" lingerie bag great for traveling and hiding intimate essentials.
The Teddy BAG is handcrafted and adorned with sexy lace, appliqués and beading. It is a unique solution to elegantly tuck away lingerie, hosiery, accessories, and more. An interior zipper compartment provides added security and privacy for cash, jewelry or other special intimates. Every woman and bride will love this bag.
The Pillow Talk Pillow is uniquely designed to store a woman's lotions, creams, perfume, diary and other personal items. Made from 100% luxurious cotton, it is discreet and great for traveling as it can simply be tucked away under a pillow. Women love the elegant embroidered pattern and matching ribbon. It also features a hidden zipper in the back that opens to reveal a plastic-lined storage pocket. This pillow can truly be a woman's best friend and keeper of secrets.
For those who can't make it to the Atlanta show, Theresa Roemer and Kym Jackson's book, "Nude: Unveiling Your Inner Beauty and Sensuality", is available at barnesandnoble.com, amazon.com and kymandtheresa.com. All products, including the Pillow Talk Pillow and the Teddy BAG are also available in their online store at kymandtheresa.com.
###
About Theresa Roemer and Kym Jackson:
Beauty and fitness pioneer Theresa Roemer has previously owned and operated her own health club, mentored young girls in the highly acclaimed Barbizon Modeling Schools and her fitness talents have been utilized by a top fitness chain in the country. She is an active spokesperson for the American Heart Association, Texas Children's Hospital and Child Legacy International.
Kym Jackson is a licensed cosmetologist and medical aesthetician, fashion designer, successful author and currently United America Ambassador. With a background in Fashion and Fine Arts, she is now a successful entrepreneur owning day spas, salons and boutiques across the country. Kym volunteers with the Locks of Love and The Rose Ribbon Foundation as well as The Bonita House of Hope, Autism Speaks Foundation and Yellowstone Academy.
Kym Jackson and Theresa Roemer's Indie Excellence Book Award winner is a guide on relationships, beauty and sensuality. It is full of practical advice on love, intimacy and attractiveness. The "trusted voice" of these two girlfriends offers valuable tips and suggestions on how being physically fit, nutritionally healthy and having a beauty regime can help women radiate sensuality.