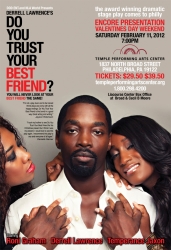 Philadelphia, PA, January 19, 2012 --(
PR.com
)-- Newly engaged couple, Maurice and April, couldn't be more excited about their upcoming nuptials. While they have the love and support of their family and friends, trouble stirs when the maid of honor confesses how she really feels about the groom. Watch as relationships are put to the test in Derrell Lawrence's dramatic tale about commitment, trust, love, and lust.
Starring John Canada Terrell of the Five Heartbeats, Matt Nadu of CW Philly, Derrell Lawrence, Temperance Jaxson, Roni Graham, Jonathan Sober, Mechielle Anderson, and Faye Wooten. Directed by Walter Deshields.
"Derrell Lawrence's 'Do You Trust Your Best Friend?' is one of the year's most brilliant performances. An excellent display of lies, distrust and betrayal, this theatrical performance will have you wanting more!!!! You will never look at your friends the same again." - ChitlincircuitReviews.com
For more information on the cast, visit
www.doyoutrustyourbestfriend.com
Tickets are available at The Liacouras Center box office. They can also be purchased by calling 1-800-298-4200 or visiting www.templeperformingartscenter.org. Show starts at 7:00 pm, doors open at 6:00 pm. Tickets priced $29.50- $39.50.
About the playwright
Derrell Lawrence (September 18), born and raised in South Philadelphia, PA, is an American actor, filmmaker, writer, director, executive producer and upcoming author. Derrell has earned several awards including, The Highest Achievement for New Filmmaker at the Jokara-Micheaux Video and Film Festival in Georgia, as well as both The Silver Award and The People's Choice Award from the Philadelphia International Film Festival and Market for his first movie, "Life Isn't Fair." He produced another film, "Happy Holidaze," and also performed in numerous independent films and stage plays. "Derrell Lawrence's Do you Trust Your Best Friend?" is the first play Derrell has produced which already made a successful stop in Phoenix, Az.
"Derrell has an exceptional gift to tell stories which will definitely entertain you." - Obba Babatunde (Life, The Temptations, John Q, How High, Half and Half)
To view fan reactions and clips from the previous show, visit:
http://www.youtube.com/watch?v=Bsm_8Cx17Tw
###
The Mic: It Sounds Nice is a company built on providing full service entertainment and media needs including artist management, public relations, music production, and graphic design.