CS3 Technology Recognizes Outstanding Clients with Their 18 Essential Behavior Program
Alan Lister with The Hardesty Family Foundation has been honored as the recipient of the "Be Authentic" Essential Behavior recognition.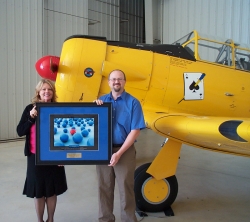 Tulsa, OK, February 02, 2012 --(
PR.com
)-- CS3 Technology, a Sage North America business partner specializing in the sales, installation, and support of Sage ERP and HRMS solutions, is extending their "18 Essential Behavior" program to recognize their clients. The "18 Essential Behavior" program stems from CS3 Technology's internal commitment to hiring people who exhibit a series of 18 essential behaviors, such as "Be Authentic," "Communicate," and "Protect Your Integrity."
"We believe that great employees exemplify these qualities," said Gary Crouch, president of CS3 Technology. "Over the last couple years we recognized our employees based on these behaviors. It then occurred to us how many of our clients also exemplify these same behaviors. We want to recognize our clients for their professionalism, work ethic and outstanding qualities."
Each month, a video highlighting one behavior will be featured on CS3 Technology's website. Clients and CS3 Technology employees have the opportunity to nominate candidates through the last day of the month. The CS3 Technology executive team will review nominations and select the nominee who most exhibits that behavior.
This past November's behavior was "Be Authentic." Authenticity means to have undisputed credibility when you put into words what you are experiencing. In other words, someone is able to express emotions without being emotional. "We are honored to recognize Alan Lister with The Hardesty Family Foundation as the recipient of our Be Authentic essential behavior," said Gary.
Alan's nomination form included specific details of an authentic dialogue between a CS3 Technology employee and himself. "Alan candidly shared his opinion of a new service we were rolling out," said Gary. "His constructive criticism will help us improve the product for other clients. He was brutally honest, without being brutal."
"I was honored to be recognized," said Alan who has worked as the Controller at The Hardesty Family Foundation for five years. "It is nice that CS3 Technology has a program that recognizes their clients for outstanding behaviors." The Hardesty Family Foundation also celebrated Alan's recognition with a catered lunch for their staff.
The Hardesty Family Foundation was established to benefit the needs of the people of Tulsa and the surrounding communities. The grants program is intended to support a broad spectrum of nonprofit organizations and charitable purposes. More information can be found at www.HardestyFamilyFoundation.org.
For more details on the Essential Behaviors program, please visit www.CS3Technology.com.
About CS3 Technology
CS3 Technology offers complete business management consulting services to companies wanting to increase internal efficiencies through proven technology applications. CS3's two-pronged approach features up front due diligence ensuring a proper recommendation and a detailed methodology ensuring a successful implementation. CS3's background spans several decades of experience centered on accounting processes, tax compliance, employee benefits and information technology. Our consultants have a shared skill set of relevant experience and product expertise. CS3 has selected to work primarily with products developed by Sage. Most recently CS3 has been recognized with the elite President's Circle recognition from Sage and recognized nationally as a Technology Pacesetter. CS3 is committed to maintaining the highest ethical standards and professional growth through its active involvement in the American Institute of CPAs, the Information Technology Alliance, the Sage Software Leadership Academy's Alumni Association, the HRMS Group and the Oklahoma Society of CPAs. For more information please visit www.cs3technology.com.
###
Contact
CS3 Technology
Gary Crouch
877-496-1600
www.cs3technology.com

Contact