Celebrity Fitness Expert and Boot Camp Instructor, as Seen on Bravo's Real Housewives of Orange County Gives Top Eight Secrets for Fitness & Weight Loss This Spring Celeb
Celebrity personal trainer John Spencer Ellis offers 8 strategies for improving health fitness and overall wellness this spring. Suggestions range for weight training specifics to alternative medicine to better sleep.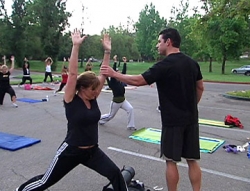 Rancho Santa Margarita, CA, March 08, 2012 --(
PR.com
)-- Fitness expert, John Spencer Ellis created the innovative Adventure Boot Camp for Women in the Orange County area, which has grown into a global fitness brand, helping women everywhere reshape their bodies in a fun team environment.
John's Adventure Boot Camp received acclaim when it was featured in several episodes of The Real Housewives of Orange County on the Bravo network.
John gives his top eight tips for achieving optimal health and fitness this spring. These are relatively simple steps one can take to a healthier life and lower body fat. They are very manageable and do not involve drastic changes. These include:

Switch to organic foods whenever possible. Toxins in traditional farmed foods may be keeping you overweight and inflamed.
Switch from coffee to green tea for your morning pick-me-up routine. The EGCG in green tea combined with caffeine boosts metabolism about 50 kcal/day.
Incorporate full-body strength training into your fitness routine at least two times each week. Include exercises such as squats, dead lifts, and standing overhead presses. This builds bone density, increases metabolism, and gives overall increased strength.
Use heart rate monitor such as Polar. Take the guess work out of your exercise routine, add fun, and use science as you enhance your results.
Shhhhh! Talk less, increase intensity. Too many people lack focus and intent and high enough intensity to reach desired results during cardiovascular exercises.
Increase intake of omega-3 via cold-water wild fish, flax, or quality supplements. Benefits include reduced overall inflammation, improved heart and brain health, better skin tone, and enhanced immune function.
Discover the benefits of complementary health care such as chiropractic treatments, massage therapy, acupuncture, and naturopathic medicine.
Embrace the "wellness lifestyle" by improving your sleep environment, the respect for your body, and continuing your quest for knowledge. Create a ritual before you go to bed to better prepare your body for deeper and more recuperative sleep.
These are recommended for anyone who wants to welcome spring with a fresh outlook on a healthier and leaner body that will surely lead to a healthier life for years to come.
About John Spencer Ellis Enterprises and the Jillian Michaels Radio Interview
John Spencer Ellis Enterprises is a solutions provider for fitness and coaching professionals around the world, providing education, turn-key business programs, coaching and resources for new and advanced fitness and coaching professionals. For more information about John Spencer Ellis Enterprises or the Client Retention Machine, please visit
http://www.johnspencerellis.com
###
Contact
John Spencer Ellis Fitness & Personal Development
John Spencer Ellis
949-589-9166
http://www.johnspencerellis.com

Contact