Audio4fun Announces the First Product Giveaway Program
The program will begin on March 10, 2012 and is open to all Audio4fun.com's visitors.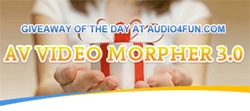 Ho Chi Minh, Vietnam, March 06, 2012 --(
PR.com
)-- Audio4fun.com is going to make it possible for visitors to the site to receive fully-featured software products free through their new Product Giveaway Program. And as the opening offer, AV Video Morpher has been chosen to be the featured product. The first Giveaway Program will be started on March 10, 2012, but as early as today, visitors can learn all the details of the program, as well as become a fan of the program so that they will be ready when the day arrives. Visit the website at
www.audio4fun.com/landing-page/giveawayoftheday.htm
to find out how.
AV Video Morpher is one of Audio4fun's most popular software products, and is known as the all-in-one movie editor for personal and home entertainment. The program is excellent for playing movies and video clips, as well as for doing other video editing tasks such as adding subtitles, voice dubbing, adding audio and video effects, video format converting, video clip cutting, etc. AV Video Morpher is also able to capture video images, remove voices from video clips, so that you can replace them, and burn DVDs. However, the best known feature of the program is its library of diversified, real-time audio and video effects that are perfect for creating high-quality video clips with less effort, especially for the novice users.
"We have co-operated with the Giveawayoftheday.com website system to run product giveaway programs on their website. From what we have observed so far, our products have received a lot of attention, and after each offer we received so much great feedback from users about our products, and that process was very useful to us in understanding users' current needs and what we can do to make the programs better," said Tracy Nguyen, Brand Manager of Audio4fun.com. "However, because the Giveaway Programs were run on their website, there were certain limitations on what we could send to our users. So there came a day when we started to think that we should build our own Giveaway Program on our website, to especially serve our users, and provide them with more benefits," added Nguyen, "We are really looking forward to starting the program; we even marked the day on our calendars as our 'Big Saturday.'"
From what Audio4fun.com has revealed, their first Product Giveaway Program will be opened to all their visitors on one specific day - March 10, 2012. Users who get that product installed with the license provided on that day will receive a free, full retail version of the product; they will also receive many other special benefits from Audio4fun.com. Audio4fun.com advises visitors to become a fan today in order not to miss the Big day of the program, as well as to keep users updated about the program activities. Fans receive other benefits, including email notifications.
The first Product Giveaway Program by Audio4fun.com will be started for only one day on March 10, 2012, and will be applicable only for AV Video Morpher - the all-in-one home video editor. Visit their website at
www.audio4fun.com/landing-page/giveawayoftheday.htm
to get for more information, and become a fan of the site so you will not miss the exciting offers from them.
###
Contact
AVSoft Corp.
Tara Nguyen
+84-8-6290-9985
http://www.audio4fun.com
232/17 Vo Thi Sau Str., Ward 7, Dist. 3 Ho Chi Minh City, Viet Nam

Contact