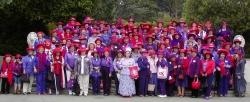 San Francisco, CA, May 15, 2007 --(
PR.com
)-- Strutting Peacocks, an official chapter of the Red Hat Society, will mingle with the resident peacocks at the San Francisco Zoo. The catering services at the zoo have graciously agreed to recreate the tea service for the Red Hats, something that is not normally on their menu. Their previous tea parties at the San Francisco zoo each had over 100 Red Hat Society chapter members from Northern California dressed in their purple outfits and red hats to meet, eat, play games, win prizes, and celebrate the birthday of the Queen Peacock.
Saturday July 21, 2007
10 AM Zoo opens
Noon - 1 PM High Tea in the Lorikeet Meadow Tent
1 PM - 4 PM Games, Prizes, and socializing
5 PM Zoo closes
For more information about this event, please visit www.thestruttingpeacocks.com
The Red Hat Society provides fun social opportunities for mature women. Inspired by the poem Warning by Jenny Joseph, ladies get together in purple outfits and red hat for monthly teas and brunches. Physicians are recommending the Red Hat Society to older female patients to keep them active, give them a sense of community and self worth.
The Strutting Peacocks is one of more than 40,000 chapters worldwide who have had countless stories written about their outings in national publications including the New York Times and Boston Globe newspapers and Women's Day and Romantic Homes magazines. For more information about The Strutting Peacocks, please visit www.thestruttingpeacocks.com.
To schedule an interview with the founder of the Red Hat Society, Sue Ellen Cooper, please call Cathy Risling at 562-713-0356.
###