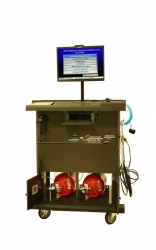 Brea, CA, February 17, 2012 --(
PR.com
)-- Worldwide Environmental Products, Inc. has been awarded a contract with the Davis County Health Department to provide and operate the Motor Vehicle Inspection and Maintenance Program. The Davis County Health Department chose Worldwide Environmental Products to provide approximately 120 private automotive stations with new vehicle emission analyzers as well as develop and operate a Vehicle Information Database to securely store and manage all program information. Additionally, the Davis County Health Department will be provided with new vehicle emission analyzers and diesel testing equipment at its centralized station in Farmington, UT.
"We are excited and eager to provide Davis County with the most advanced vehicle inspection and maintenance program in the country," said President and CEO of WEP Inc. Bill Delaney. "We will be providing the most innovative and secure technologies available in the industry, ensuring the absolute best value to the private station owners, motorists and tax payers of Davis County."
With over 30 years of experience in hardware development, software development and database management, Worldwide Environmental Products was chosen as a reliable and trusted contractor for the County's program. "Our goal in Davis County is to provide the Health Department with all of the state-of-the-art tools necessary to demonstrate the importance and significance of a vehicle inspection program. Stations will be provided with the industry's best equipment to ensure operability and accurate testing. Motorists in Davis County can rest assure that their vehicles are being accurately inspected." The Worldwide Environmental Products managed program will begin in early June.
###