Poetry Book Chronicles Life of Author Diagnosed with Spinal Muscular Atrophy
Washington State Poet Travis Laurence Naught shares his views on life, love, and the world in this debut book.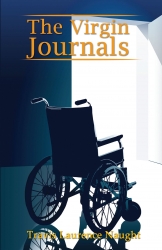 Hawthorne, NJ, February 22, 2012 --(
PR.com
)-- "The Virgin Journals" by Travis Laurence Naught is a compelling new book of poetry and prose that shares opinions, thoughts, and ideas of the Cheney, Washington poet with a release date of March 6, 2012. Naught is an author who hopes to make readers look at the world and themselves in a new way. At age 28, he has never taken a free step, but that has not stopped his mind from making its own travels, wandering, and putting those thoughts on the page. In "The Virgin Journals," Naught shares his frustrations ranging from being a quadriplegic to his status as a virgin who has only been kissed twice. He expects readers to forget he has a physical disability and instead view the world through a new lens: a unique one created by his writing voice.
Megan McConnel of Raven's Brew Coffee in Tumwater, Washington where artists come together to share their works says "Naught's collection possesses such a solid honesty; he has allowed us to tap directly into his mind. There is this perfectly composed, yet subtle, juxtaposition of how physical dependency is no match for a clever and confident tongue."
Naught has a Bachelor's in Psychology and Graduate Study in Sports Psychology from Eastern Washington University where he spent 10 years working with the men's basketball team. In 2011, he received second place finishes in the 49 Alaska Writing Center "Ode to a Dead Salmon" Contest and the Raven's Brew Coffee poetry Contest. He received an honorable mention in the clarity poetry contest hosted by the Lucidity Poetry Journal and occasionally participates at the BE and Broken open microphone nights in Spokane, Washington.
Join Naught at his book launch which is being offered at two locations the week the book comes out. Chairs Coffee, 113 West Indiana Spokane, WA on March 6th from 4:00 p.m.- 6:00 p.m. and The Golden Art Gallery, 103 East Main Street Goldendale, WA on March 8th from 4:00 p.m.-7:00 p.m.
Naught started writing poetry and prose as a personal venture. Now he is prepared to share his thoughts on life, love, and the world. "The Virgin Journals" is published by ASD Publishing, an independent book publisher based in New Jersey specializing in thought-provoking literary fiction, memoir, self-help non-fiction, and written word that champions personal growth. www.asdpublishing.com
###
Contact
ASD Publishing
Greg Goldston
973-280-0145
www.asdpublishing.com

Contact