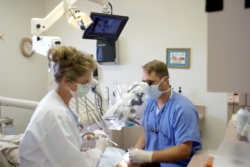 Boise, ID, February 24, 2012 --(
PR.com
)-- Have you ever looked through a microscope and been amazed at the level of detail that you had no idea existed? Now imagine looking through that microscope at your teeth. Those pearly whites might not appear so pearly when viewed under magnification. In the United States, only a small percentage of general dentists use high-powered microscopes in their dental practice, however the benefits of using a microscope in all areas of dentistry are quickly becoming more evident.
Using a microscope, the level of precision achieved is greatly increased. The dentist is better able to create precise margins and check for abnormalities in impressions used for the creation of a dental appliance or crown. Once the prosthetic is placed, a snag or rough spot on a tooth or crown that is not visible to the naked eye suddenly becomes clear through the microscope. Working with the detailed images the dentist is able to give the patient a more comfortable and natural feel to their filling, crown or other prosthetic.
The level of care when performing root canals with a microscope is difficult to match. During root canal therapy the pulp (the living tissue inside the tooth) as well as any decay, is removed and the resulting space is filled with a special material to restore functionality to the tooth. An entire branch of a root can be missed when a high-powered microscope is not used. Small pockets of infection, which otherwise would go unnoticed, suddenly become visible. If the decay in these minute root branches go unnoticed, the root canal may fail, causing continued pain and the additional expense of retreatment.
Viewing through the high-powered microscope also becomes a great aid when the dentist extracts a tooth that through unforeseen conditions becomes surgical. If the tooth must be taken out in fragments, the microscope ensures no pieces are left behind undetected.
Not only is the microscope an amazing tool for attention to detail, the microscope can also enhance the patient's experience. The dentist is able to hook a video camera through the microscope allowing the patient to view the image on the screen. It is much easier to explain proposed treatment when the patient can see exactly what the doctor sees. It also makes dental treatment more fun and interesting for the medically minded patient.
Dr. David Ripplinger, a general
dentist in Boise, Idaho
, uses high-powered microscopes for nearly every procedure he performs to ensure the most optimal care that he can give. He reports that often he is shocked by what becomes visible through the microscope. He believes this piece of equipment will revolutionize dentistry and will be the standard of care for the future.
###