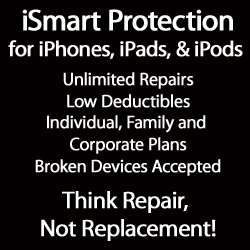 Salt Lake City, UT, February 28, 2012 --(
PR.com
)-- iQue Repair announced an extraordinary Groupon discount for their revolutionary iSmart Protection Plan, for iPhone, iPad, and iPod Touch devices. By logging on to
http://www.groupon.com/deals/ismart-protection-plan
, consumers will have access to the country's already lowest priced extended warranty plan on the market for the repair of their Apple mobile devices,
www.ismartwarranty.com
.
Consumers have the option to purchase the iSmart plans at the Groupon website for half their already low cost for an Individual iDevice Plan or Family Plan that protects a mix of up to six devices for two years of coverage and unlimited repairs. During the next three days, iSmart Protection will be available at these incredibly low prices through Groupon. Essentially, that gives buyers a year free over an already great deal.
iSmart's Family Plan allows consumers to bundle their devices under one plan for an even lower discount. No other insurance or warranty carrier offers this kind of package deal which represents a major paradigm shift in the cell phone and mobile device repair industry's thinking. Not only is the cost of iSmart Protection's premium lower than all of the plans on the market today, the plan covers unlimited repairs while others cap the number of repairs they will do.
iSmart Protection provides unlimited repairs rather than forcing costly replacements, device upgrades, extended contracts and expensive service plans. See the iSmart comparisons with other known brands on their website. If you sell your device at some future time, you can transfer your plan with it which will be more attractive to the buyer.
The iSmart Protection Plan is also available nationwide for those who do not have any coverage plan and prefer to repair their devices for significant savings in replacement costs. If you are using a service provider like T-Mobile with an unlocked iPhone, this plan is ideally suited for your unprotected device as well.
Here's an example of what they are saying about iSmart Protection at Coolest-Gadgets.com,
http://www.coolest-gadgets.com/20120216/apple-free-idevice-protection/
.
iSmart Protection Plan is exclusively designed for the repair and maintenance of Apple mobile devices, including the repair of iPhones, iPads, and iPod Touches. To purchase the iSmart Protection Plan or to inquire about corporate plans, visit
www.ismartwarranty.com
.
###