Advantedge Business Centers to Open Third Location in DC Central Business District: 2101 L Street NW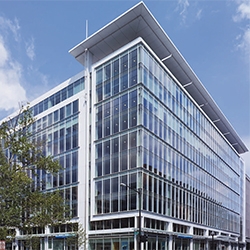 Washington, DC, March 08, 2012 --(
PR.com
)-- AdvantEdge Business Centers, an executive suites and virtual office provider in the Washington D.C. metro area, is announcing the April 2012 opening of a brand new 25,000 square feet location at 2101 L Street NW.
With flexible terms and configurations, and an on-site management team dedicated to offering the highest level of personal service, AdvantEdge's newest location offers businesses a low-risk high-quality office space solution in downtown D.C.
Situated within Washington's central business district at the corner of 21st and L Streets, 2101 L Street is a Class "A" LEED certified green building offering a sophisticated and contemporary corner office space with premium amenities. The location's design features a dramatic white marble lobby with artwork by acclaimed artist Benjamin Edwards, and a glass and metal façade with two story glass panels that bathe the facility in natural light.
The center is fit out with high-speed fiber optic internet, enterprise-grade VOIP telephones with voicemail to email translation, and multiple hosted and cloud service offerings. Multiple conference spaces with modular design can accommodate board meetings, training sessions, presentations, or other client events. An expansive co-working space and lounge area provides the ultimate mobile office experience, blending conventional office design with collaborative space that will please both traditionalists and on-the-go remote workers. Incorporating these dynamic, open-plan spaces is aimed to foster client interaction and a sense of community, and lead to a more comfortable and collaborative work environment.
The building features premium amenities including a private fitness center, underground parking, childcare and a retail level featuring Citibank and several restaurants. The facility's private courtyard and rooftop terrace are also available for casual relaxing or private events. Fine dining options including Morton's Steakhouse and Legal Seafood are located mere steps from the building, and the nearby Ritz Carlton, Washington Marriott, and Wyhdham City Center hotels offer some of the city's finest accommodations.
Accessing the location is quick and simple via Metro, as the Dupont Circle, Foggy Bottom, Farragut North, and Farragut West metro stations are all within walking distance, offering direct access to the Red, Orange, and Blue lines.
"We are very excited and proud to unveil our third location at 2101 L Street," says AdvantEdge's owner and President Prakash Gavri. "AdvantEdge strives to offer the very best in executive suites and our new space will provide the modern design and full business amenities that our current clients have come to expect from us. Ultimately, we strive to create flexible working environments that encourage the sharing of ideas and greater interaction amongst clients and employees."
About AdvantEdge Business Centers
For over 20 years, AdvantEdge has been a leader in the Washington DC executive suites industry, providing distinctive & customized office space for lease along with a host of additional services. With more than 60 years of combined managerial experience, AdvantEdge guarantees each client unparalleled support, individualized attention, and onsite assistance. With centers in 'Class A' buildings, AdvantEdge ultimately offers high-end space while maintaining affordability. For more information visit www.advantedgebc.com or call (202) 466-0500.
###
Contact
AdvantEdge Business Centers
Prakash Gavri
2024660500
www.advantedgebc.com

Contact