Structural Engineering Firm Supports American Military and Government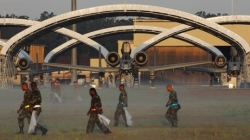 Klamath Falls, OR, March 09, 2012 --(
PR.com
)-- Precision Structural Engineering, Inc. has been working hand in hand with Big Top Shelters in order to provide structural engineering for the American military. The work they are doing will affect military bases throughout the country. They have already put their expertise to good use by completing work for the Army, the Air Force, the Navy, and the Marines. Some projects they have already completed with Big Top Shelters include storage shelters for the Marine Corps Base in Camp Pendleton, the Puget Sound Naval Shipyard in Bremerton, and Fort Sam Houston in San Antonio. The duo has also completed impressive
engineered aircraft storage hangars
for Robins Air Force Base in Georgia and Davis-Monthan Air Force Base in Arizona. By providing their services to these military branches they are ensuring that the military's assets are protected. PSE truly understands that military equipment and soldiers are integral to the safety of the United States of America and the safety of nations around the world.
When providing structural services, Precision Structural Engineering, Inc. uses the most advanced software and techniques to analyze and design the project. They provide vertical and lateral loads analysis and design according to the Building Code, and framing and foundation plans to scale. They are dedicated to guiding their client's projects from beginning to completion in an honest, economical and efficient manner.
Precision Structural Engineering, Inc. is currently providing the 173rd Fighter Wing, Kingsley Field National Guard Base with inspection services. They have also completed several projects for the United States Forest Service including the Yreka Office Building. Other completed projects include the Modoc NWR Bunkhouse which was done for the United States Department of Fish and Wildlife. They are extremely proud to provide their services to the American government.
For more information about this patriotic structural engineering firm please visit www.structure1.com.
About Precision Structural Engineering Inc.
PSE has provided top quality structural design to owners, architects and contractors since 1995. On average, PSE successfully complete the structural designs on over 500 projects a year in over 20 states. The firm has excellent experience in new building construction, as well as seismic rehabilitation of existing buildings. Please visit www.structure1.com for more information on PSE's list of projects and clients.
About Big Top Manufacturing
Since 1979, as a leading fabric building & shelter manufacturing company, Big Top Manufacturing (www.bigtopshelters.com) provides government, military, and industrial customers with engineered, heavy-duty fabric covered, steel-framed buildings and shelter systems. Located in North Florida, USA, Big Top Manufacturing never ceases to research and improve their engineered fabric building systems. Big Top utilizes precise CNC, RF fabric welding machine, robotic fabrication, and fiber optic laser tube cutting machine in their manufacturing process with rigorous quality control. From the design to installation of shelter structures, people can rely on Big Top with over 30-year experiences in the industry.
###
Contact
Precision Structural Engineering Inc.
Nabil Taha
541 850 6300
www.structure1.com

Contact