New Website Offers Latest on Martial Arts and Mixed Martial Arts Training, Schools and Certification
A brand-new website, http://martial-arts-schools.info/, provides up-to-date details on martial arts schools, mixed martial arts, certifications and more. The site also links to training on becoming a martial arts coach.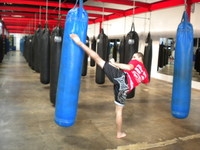 Rancho Santa Margarita, CA, March 30, 2012 --(
PR.com
)-- From martial arts schools to mixed martial arts coaching and from kung-fu fitness to martial arts training centers, a new website at http://martial-arts-schools.info/ offers a complete variety of certifications, programs and information on the latest in the worlds of martial arts and mixed martial arts, also known as MMA.
In particular, the new site offers details on:
Becoming a Certified Mixed Martial Arts Conditioning Coach certification through the Mixed Martial Arts Conditioning Association (MMACA), which offers online martial arts education;
Kung-fu Fitness, which is a unique combination of traditional martial arts and modern exercise science;
Martial arts fitness programs and boot camps that combine group exercise, self-defense and core training;
Free martial arts conditioning videos;
Running a profitable martial arts business;
And more.
All of the 100 percent online and self-paced education, trainings and certification programs include business coaching and development as well as online marketing and branding information to help people launch and operate a successful martial arts or mixed martial arts business.
"Whether you are looking for the latest martial arts workout or a training program so that you can coach mixed martial arts pros in your area, this site offers the tools, tactics and information that you need to get started and to succeed," said John Spencer Ellis, founder of John Spencer Ellis Enterprises, a personal development and fitness solutions company. "Martial arts and mixed martial arts careers can really make an impact, so to speak, on your clients and on your personal and professional success."
In addition, the new site at http://martial-arts-schools.info/ offers information on and links to personal training resources as well as online and mobile marketing options for personal trainers, mixed martial arts and martial arts teachers and coaches, and other fitness pros.
About John Spencer Ellis Enterprises and the Martial Arts Schools Website
John Spencer Ellis Enterprises is a solutions provider for fitness and coaching professionals around the world, providing education, turn-key business programs, coaching and resources for new and advanced fitness and coaching professionals. For more information about John Spencer Ellis Enterprises or for more information on martial arts schools, trainings and certification options, please visit
http://martial-arts-schools.info/
Contact
John Spencer Ellis Fitness & Personal Development
John Spencer Ellis
949-589-9166
http://www.johnspencerellis.com

Contact