Nordic Peer-to-Peer Lending Website isePankur.ee Launches White Label Social Banking Software
isePankur is the most established social banking company in the Nordics with a solid three-year track record providing lenders on average annualised returns of over 19 per cent. isePankur have launched a partnership with Helmes, one of Estonia's largest IT companies to sell social banking software and support services internationally.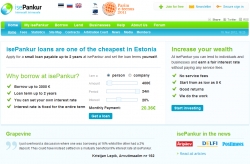 Tallinn, Estonia, March 13, 2012 --(
PR.com
)-- In addition to managing the peer-to-peer lending website (
www.isePankur.ee/eng
) isePankur develops and sells financial software for customers such as The Danwood Group in the UK. The award-winning software is targeted to both small and large organisations and is an ideal solution for social banking or online financial services providers who want to put their customers in full control of their accounts, loans and investments. isePankur have experience managing peer-to-peer lending websites across various markets in Estonia, Finland and Sweden and are soon opening the service to lenders in UK and in other European markets.
Negotiations are underway with various new international customers which include major international banks as well as start-ups aiming to bring the peer-to-peer service to their customers. isePankur will be responsible for product development and advising their customers on how to establish a market position.
While developing their core platform, isePankur work with their customers to understand each individual market and business. They offer a wide range of services to support this approach which includes guidance on regulatory issues and sharing their know-how to allow customers to launch with a cost effective and profitable product and organisation structure required to be successful in the social banking market.
To compliment this approach Helmes manage business process mapping, implementation and integration work and quality assurance as well as providing technical support.
Pärtel Tomberg CEO isePankur said:
"The partnership with Helmes allows us to provide a scalable solution for any company interested in engaging in social banking or online lending activities. We will work on the core technology and product development, customer relations and sales & marketing. Helmes will customise and implement the platform. We have already completed our first sale to a company in South Africa who shall soon launch the only social banking and online lending venture in the country."
Jaan Pillesaar CEO of Helmes said:
"Helmes has been focusing on developing self-service software solutions for international companies for the past five years. The partnership with isePankur was formed in 2009 and the first joint software sales agreement was signed at the end of 2011. Working with isePankur will see us grow our business and reach new markets."
Notes to editors
isePankur
isePankur, established in 2008, is a pioneer of social lending in Estonia and the oldest operational peer-to-peer lending platform in Scandinavia allowing individuals and small and medium-sized enterprise to borrow and lend between each other. Lenders at isePankur enjoy annualised returns of over 19 per cent since the company introduced strict risk management policies in 2010. The rapidly growing company has been acknowledged as the "Best Estonian E-service of 2011" as well as a quarter-finalist at the World Summit Awards of 2011. The company has also progressed into software sales and licenses its core technology to social banking and online lending companies. With a 56 per cent profit margin in 2011, the company is one of the few profitable social banking start-ups in the world.
Helmes
Helmes is an international technology consultancy established in 1991 headquartered in Tallinn, Estonia. The company focuses on online self-service portals with the support of its 200 engineers. Helmes was picked as the best global development partner in 2011 by many of its international customers who include Nasdaq OMX and Danske Bank. Helmes offers end to end solutions to reduce the need for any additional third party input.
Additional information
Pärtel Tomberg
CEO of isePankur
partel@isepankur.ee
+372 53 599 935
www.isePankur.ee
###
Contact
Sõbralaen OÜ
Pärtel Tomberg
0037253599935
www.isepankur.ee

Contact