NomadLAB Selected as Sesame Award Finalist for Cartes in Asia 2012
Autonomous communication analyzer offers simplicity, autonomy and price tailored to needs of integration, software development and support engineers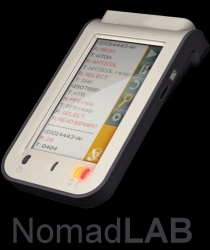 Montbonnot, France, March 15, 2012 --(
PR.com
)-- The NomadLAB hand-held, autonomous communication analyzers for development and troubleshooting of Smart Card and Near Field Communications (NFC) systems has been selected as a finalist for the Asian SESAMES Award, which is awarded in conjunction with the industry event Cartes in Asia 2012. The SESAMES Award aims to reward the best innovative technological application developed in the field of smart cards, digital security, identification, secure transactions and contactless. The competition is open to all companies operating in the sector and the jury is composed of industry experts. The Asian SESAMES Award will be presented on Wednesday 28 March during the award ceremony at the AsiaWorld-Expo in Hong Kong.
The NomadLAB's innovative design offers the portability and simplicity that facilitate interoperability and functional verification of systems and software in the lab or in the field. NomadLAB marks a major evolution in protocol analyzers by providing a laboratory quality tool that operates independently of a PC, with functionality and pricing that is tailored to requirements of integration, software development and support engineers. Compared to laboratory-class tools, NomadLAB offers a much larger range of users the benefits of a simple yet powerful communication analyzer to ensure interoperability and reliability in a wide range of smart card and NFC implementations.
"NomadLAB is the direct result of requests from smart card system designers and software developers for tools that allow them to quickly identify problems that occur in complex NFC and smart card systems," explained Benoit Hedou, Director of Smart Card Platforms at KEOLABS. "To meet their needs, we worked in close collaboration with Gemalto to understand the challenges faced by these high-level users and then tailor our laboratory class analyzer technology to their use case."
NomadLAB was first announced in pre-release demonstrations at Cartes in Paris in November of 2011. There it met with great success as a demonstration thanks to its easy to use interface, portability, performance and reliability in capture and signal anlysis.
NomadLAB operates on its own power supply and independent of a personal computer. It provides analysis of a wide range of smart card communication protocols. This includes ISO 14443 (A, B) protocol for 13.56 MHz contactless smart cards and readers, with the possibility to add support of NFC (IP1, IP2) protocol. NomadLAB also supports ISO 7816 and SWP (HDLC, HCI) protocols for test of contact smart cards, USIM and their implementation in mobile phones. This complete coverage allows users to analyze communications between a wide range of smart cards and related products including:
- Contactless smart cards and readers
- Contact smart cards and readers
- USIM cards for mobile phones
- Contactless front end components for NFC mobile phones
- 13.56 MHz proximity objects, devices or systems
NomadLAB will be available via dedicated distributors in May 2012. The platform will be available with a Contactless Signal Analyzer option covering ISO 14443 technologies, NFC analyzer option, and a Contact Signal Analyzer option covering contact smart card protocols SWP (HDLC, HCI) and ISO 7816. Users can also have a full platform that includes both contactless and contact options.
NomadLAB demonstrations will be offered by the companies' distributors worldwide and at industry events including Cartes in Asia Hong Kong and WIMA NFC in Monaco.
About KEOLABS
KEOLABS is a leading provider of tools and services for testing microcontroller and secure component implementation. The company has two activities: Smart Card Validation and Microcontroller Tools.
KEOLABS Smart Card Validation activity provides an end-to-end product and service offer for validating and certifying smart cards and related technologies in accordance with industry standards. KEOLABS participates in all major certification processes for the secure transaction and identity sectors. The company offers a comprehensive range of solutions for validation of all layers of contact and contactless secure components from the electrical to the digital and application layers.
KEOLABS service branch includes the ISO17025 accredited Certification Center offering test services to all stakeholders in the secure component sector for smart cards, handsets, ePassports, electronic driver's licenses and card readers.
Contact
KEOLABS
Steve Gussenhoven
+33 4 76 61 02 35
www.keolabs.com

Contact