UK Car Crimes & Accidents Mapped - How Safe Are Your Local Streets?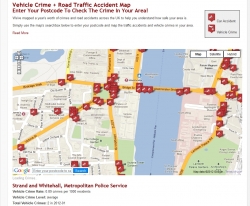 Bristol, United Kingdom, March 20, 2012 --(
PR.com
)-- To help UK motorists understand the safety of their local streets, car insurance comparison website
CheapestCarInsurance.org.uk
has launched an interactive
crime map
that combines vehicle crime data from the Police and road accident statistics from Department for Transport (DfT) with Google Maps to give a clear overview of the incidents in their area.
"By taking tables of government data and visualising it in a clear way using Google Maps, we hope to make the information more accessible to the general public," said Jonny Platt, manager of Cheapest Car Insurance. "While the safety of your area obviously has considerable impact on your car insurance premiums, we also think this map will be extremely useful for community groups campaigning for road safety around their schools, neighbourhoods and hospitals."
Motorists who are concerned about the level of car crime in their area may find that by parking their vehicle off the road or fitting security features such as engine immobilisers, alarm systems and GPS tracking could lower their car insurance premiums. Similarly if a motorist lives in an area with a high incident of accidents on the road factors such as the size of their engine and previous speeding offenses may have a greater impact on the price of their insurance.
The data, which has been released as part of the Government of the United Kingdom's Transparency agenda, is compiled from the most recent accident and injury statics made available by the DfT through the government's data repository at http://data.gov.uk and matched with the Police crime statistics for the same year which is collected through the Police API.
The map, which can be found at http://www.cheapestcarinsurance.org.uk/vehicle-crime-road-traffic-accident-map, has has been developed by Cheapest Car Insurance, a car insurance comparison site that was used by over 150,000 motorists in the last year. As well as comparing generic car insurance premiums Cheapest Car Insurance also offer specialised services for classic cars, taxi drivers, leisure vehicles such as caravans and motorhomes as well as motorbikes and vans.
Contact
Cheapest Car Insurance
Jonny Platt
+44 7975 796695
http://www.cheapestcarinsurance.org.uk

Contact