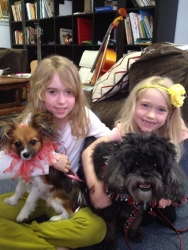 West Hartford, CT, March 26, 2012 --(
PR.com
)-- "They started small," says their father: "first, by taking care of ants, then they worked their way up the food chain to frogs, wild mice, gerbils, and imaginary dogs, until they finally earned a puppy, then... there was no stopping them."
The 8 and 6 year old girls received the first inquiry from their website
www.TheLittleDogNanny.com
from local designer and renovation consultant Lizzy Goldberg (
www.GetLizzy.com
): "I had a couple meetings on a Saturday and needed help with Zeke. The girls were so cute and obviously loved dogs. I thought Zeke would really enjoy their company (and the company of their dog Rasa) and as it turned out, he really did!" says Ms Goldberg.
Abby explains: "We just loved Zeke. He is a poodle type looking dog, floppy ears and pointy teeth going up above his lip. We loved walking him and grooming him and we can't wait to see him again.... He fit right in with our pack (me, my sister, Rasa, and our Dad). We pay attention to the Dog Whisperer, Cesar Millan, and follow his rules for a balanced dog and pack. We're working on being good pack leaders so our dog, and dog friends, feel safe and happy."
Keely says: "The tooth fairy came the night before Zeke came, but I was more excited about seeing Zeke."
"The Little Dog Nannys are making a business out of their hobby," says Paul Bratslavsky (Mr. B
www.SuperKids-Karate.com
Head Coach where the girls use space to care for their doggie customers). "They are super responsible and good at what they do, and, they are great examples of the empowerment kids find here by participating in SuperKids Karate programs. It's fun to watch them learn and grow and do something good for others," continues Mr. B.
Yesline Suarez, owner of
www.ViceVersaBoutique.com
which also sells Doggie Couture explains: The Little Dog Nannys are a lot of fun. They visit my dog Hipolito and he really enjoys their company.
The Little Dog Nannys care for small dogs in West Hartford CT with an emphasis on being calm assertive pack leaders as taught by Cesar Millan (the Dog Whisperer).
They can be reached at
www.TheLittleDogNanny.com