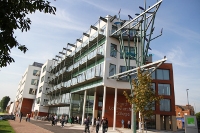 Manchester, United Kingdom, March 29, 2012 --(
PR.com
)-- South Leicestershire College (www.slcollege.ac.uk) has today announced it is implementing
Intuitive Dashboards
, the advanced business intelligence dashboard solution from Manchester-based Intuitive Business Intelligence (
www.intuitivebusinessintelligence.com
), to provide instant, real-time, graphical dashboard views of the College's performance against their Key Performance Indicators.
Intuitive Dashboards will empower the Executive team, Heads of Faculty and Governors with instant visibility of their performance, enabling them to take immediate action in response to potential variances. The implementation will monitor KPIs in the student lifecycle, including student applications, enrolment and learning outcomes, reporting from the College's PICs and ProSuite student administration software. In addition, Intuitive Dashboards will provide dramatically-enhanced, visual reporting on the financial position of the College, directly from their Corero financial software.
Future implementations will monitor on-programme data including student attendance and punctuality, as well as curriculum efficiency, staff utilisation, absenteeism and staff development from the College's HR systems.
Suki Rai, Head of Planning, Information and Funding at South Leicestershire College, comments, "We set out to empower our staff with the right tool to give them full control over the information that impacts their faculty or department. We needed an easy-to-use dashboard solution that provides a single point of access to the most relevant information needed for more effective decision-making. Intuitive Dashboards is critical in enabling us to enhance our performance and identify any operational aspects of the College that demand immediate action."
She continues, "Recent restructuring at the College and cuts to funding in the Further Education market has placed an increasing emphasis on driving improved efficiencies. By adopting Intuitive Dashboards, we will instantly eliminate hours of staff time spent manually creating management reports. Intuitive Dashboards empowers our users by giving them real-time access to the relevant performance data affecting their specific responsibilities."
Suki Rai concludes, "We looked at several dashboard solutions, but the ease of use and simplicity of access to our critical information proved the compelling factors in our selection of Intuitive Dashboards. We were also impressed with the uncomplicated, honest approach demonstrated by Intuitive Business Intelligence; their track record in the Education sector underlines their in-depth understanding of the challenges faced by FE establishments and convinced us that we'd made the right choice. Our implementation of Intuitive Dashboards signals a new era in the way that South Leicestershire manages and uses management data. It provides in-depth insight into our performance quickly and easily, so I have no hesitation recommending other Colleges should implement Intuitive Dashboards."
Tony Bray, Managing Director at Intuitive Business Intelligence, comments, "I'm delighted to welcome South Leicestershire College to our rapidly-expanding list of Education clients. Intuitive Dashboards will enable them to continuously monitor and improve the operational and financial management of the College, but also take a proactive stance in managing student data. Ultimately, Intuitive Dashboards will help the College to make faster, more accurate management decisions to benefit staff and students alike."
Notes to Editor
About Intuitive Business Intelligence and Intuitive Dashboards
Intuitive Business Intelligence Limited (www.intuitivebusinessintelligence.com) is a rapidly-growing technology innovator in the field of Business Intelligence (BI) software solutions. Their products enable organisations to save time and money by making faster, more accurate decisions based on the wide-ranging data sources and systems that already exist within their business. Their flagship product, Intuitive Dashboards, empowers users with a single, consolidated, real-time view of critical business information, combined with proactive alerts to potential shortfalls in performance against the client's most important metrics and KPIs.
About South Leicestershire College
South Leicestershire College (SLC) is a general college of further education, situated on the southern outskirts of Leicester. We attract learners from the local Oadby and Wigston area and from across Leicestershire and the East Midlands. The main campus based in South Wigston is a brand new state-of-the-art £43million facility, housing a first class teaching and learning environment. The college has three other established campuses across the city each providing their own specialist provision.
SLC offers a curriculum that meets the needs of both employers and local communities. In 2011/12, SLC supported over 8,000 learners to achieve qualifications via a diverse curriculum. We pride ourselves on our friendly approach and individual attention to our students.
For further information, contact:
Carrie Hamer
Marketing Manager, Intuitive Business Intelligence
e: carrie.hamer@intuitivebi.com
t: 07554 881717
Katie Phelan
Senior Marketing Executive, South Leicestershire College
e: katie.phelan@slcollege.ac.uk
t: 0116 264 3535