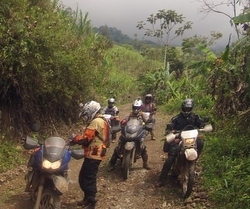 Quito, Ecuador, April 03, 2012 --(
PR.com
)-- For those who have dreamed of exploring the Amazon jungle or riding a motorcycle over the Andes, Ecuador Freedom Bike Rental now brings that dream into reality. This new seven-day, guided motorcycle tour journeys through three distinct regions or "worlds" of Ecuador - amid cloudforests, along the shore of the Pacific Ocean, over mountain passes as high as 14,000 feet, to the edge of volcanic craters, and into the Amazon jungle.
The
trip
begins in Quito, the very first UNESCO World Heritage Site and location of Ecuador Freedom Bike Rental's office. The tour stops at the Inti-ñan Solar Museum for an opportunity to experiment with gravity on the "red line" of the Equator, rides around the Pululahua Crater Geo-Botanical Reserve, takes a break among the hummingbirds at the world-famous Bellavista Cloudforest Bird Lodge, descends through cloudforests on the western slopes of the Andes, and provides a tour the El Quetzal chocolate factory –and this is just the first day!
During the week tour riders will cross savannah, travel along the beautiful Pacific Coast, climb the Andes, ride the "Avenue of Volcanoes," and descend into the Amazon as they explore one of the most bio-diverse areas on the planet.
Most of tour is on well-maintained paved highways, but some dirt roads are required for very special places, such as to reach a centuries-old cobblestone road in Sigchos. One day will end on a beautiful sand beach, another at altitude soaking in a volcanic hot spring, or falling asleep listening to the flow of the Napo River in the jungle. However, there's no roughing it on this journey featuring private accommodations and specially selected dining. This is not an ordinary tour, but one that will create memories to last a lifetime.