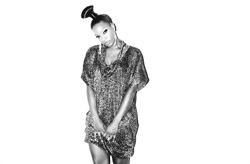 New York, NY, April 11, 2012 --(
PR.com
)-- Music's freshest voice, JoiStaRR, is receiving the recognition that her distinct sound and amazing talent deserves. The rising star, who toured with Kanye West for five years, has been tapped to provide vocal support to Dr. Dre and Snoop Dogg during their Coachella performances on April 15th & 22nd in Indio, CA. JoiStaRR, who is currently in the studio completing her debut album, Magic, which is scheduled for a summer release, is ecstatic to be performing on the same stage as the legendary hip-hop artists.
"When Kanye West's former musical director, Adam Blackstone, approached me about the opportunity, at first I thought 'Wow, I literally just prayed to sing at Coachella!'" says JoiStaRR. "Thank You God! What an amazing honor it is to sing on the biggest stage with music greats Dr. Dre and Snoop Dogg two weekends in a row! Performing with them is the perfect follow up to my SXSW performance this year. They have been the best at making me feel a part of the team during rehearsals. I can't wait for the actual performance!"
As JoiStaRR readies the summer launch of her debut album, Magic, she continues to promote her critically acclaimed mixtape, Magic Monday, which has served as a breeding ground to preview what we can expect from the rising star. The mixtape collection features 20 original and cover tracks, including collaborations with Game, Paul Wall, and PJ Morton. JoiStaRR will also be seen in several episodes of Mary Mary's new reality show currently airing on WE TV, Thursdays at 9:00 PM (ET).
Fusing R&B, electro, and world music, JoiStaRR is a genre-bending artist creating her own lane in music –"Art & Beat."
For more information on JoiStaRR, to dowloand the Magic Monday mixtape and to learn about her other upcoming performances visit: www.JoiStaRR.com.
About JoiStaRR
Artistically fresh seems the best fit to describe JoiStaRR each time she puts pen to pad and vocals to beat. JoiStaRR's burgeoning solo career is the result of her artistic ingenuity and relentless hard work as a sought-after performer and songwriter.
After touring internationally with Kanye West for five years and singing on one of hip-hop's most heralded tours, Glow in the Dark, the LA-native takes center stage debuting her imaginative artistry and genre-bending talent to the world with her new mixtape Magic Monday, and later her debut album, Magic.
JoiStaRR has earned a prominent foothold in the music scene having performed and recorded with everyone from Raphael Saadiq and PJ Morton to Ghostface and Christina Milian, Estelle and Kid Sister to Musiq Soulchild and T.I. Her impressive body of songwriting credits also include work with Chris Brown, Estelle for Slash, Mario, Brandy, My Block label mates, Mary Mary and more.
Still not convinced she's music's next big thing? JoiStaRR's, "Mr. Forever," was a featured track on the Jumping the Broom soundtrack; an accomplished feat all before she's released her debut album.
Blessed with the ability to paint stories through her writing, and the gift of song, JoiStaRR is carving a new genre of music, which she calls "Art & Beat" to describe her sound. Her rich vocals supremely fill the void in modern music.
Don't be the last to discover this musical gem.
For More Information:
www.joistarr.com
www.twitter.com/joistarr
www.facebook.com/joistarrland
www.myblockrecords.com