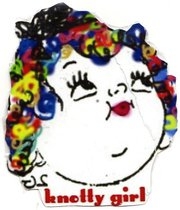 Pittsburgh, PA, April 15, 2012 --(
PR.com
)-- Pittsburgh Designer Announces National Debut of Knotty Girl Wearable Art Hitting the Runway in Fashion Week Cleveland 2012.
Pittsburgh, PA Textile artist and designer, Becca Nation is pleased to announce the debut of her wearable art line of clothing, Knotty Girl, in Fashion Week Cleveland 2012. Becca, who resides in Avalon Borough near Pittsburgh is originally from Moultrie, GA, began her artistic interests as a young child when her grandmother taught her how to crochet. When asked how she does it she states, "I like to use the half double stitch and it's nothing fancy. It's how you put it together that makes it art."
The Cleveland Fashion Week is one of the largest fashion events in the country attracting designers from the US and Canada who audition to participate in the event. The staff of judges loved Becca's unique designs, color, and avant-garde style requesting that she showcase her line in the events grand finale run way model black tie event on May 12th. A sample of Ms. Nation's work is currently on display inside downtown Cleveland's Halle Department Store Building located at 1212 Huron Road East.
Becca refers to her art as "Fiber Couture." When asked what compelled her she states, "I tried it and realized I was really good at it, so I just kept going with it. It's a good medium as far as color and texture that you can do so much with." She also mentions, "It's amazing to watch a skein of yarn become a three dimensional piece. It's like making a sculpture. It's fun to look at, fun to wear, and people just can't help smiling when they see it."
The public is encouraged to preview the displays at the Halle Building and there will be a trunk show sale on May 4th at Cleveland's Tower City Center. The weeklong event will finish on May 12th with the annual fashion show where tickets can be purchased in advance. For more details, please visit the Cleveland Fashion week website.
Fashion Week Cleveland (FWC) is an annual convention that informs consumers about the cultural importance and economic contributions of the fashion industry, and serves as a positive catalyst for achievement in fashion design, manufacture, education, and retail growth. Fashion Week Cleveland is known as "the educational fashion week" and has become the most significant industry event between New York and Los Angeles. In addition to traditional runway shows, the event incorporates films, lectures, and exhibits at cultural institutions, museums, galleries, and universities throughout Northeast Ohio. The Cleveland Fashion Show, central to fashion week in Cleveland, is recognized as the showcase for emerging American fashion designers. Fashion Week Cleveland is held the first week of May in Cleveland, Ohio. www.fashionweekcleveland.com
Contacts:
Becca Nation:
becca.nation@yahoo.com
Like Knotty Girl on Facebook:
http://www.facebook.com/pages/Knotty-Girl-Designs/110430229038255