Infinity Technology Solutions Announces Acquisition of Online Marketing Company ArchiTech
Infinity Technology Solutions, provider of IT Strategy Consulting, Managed IT Services, Cloud Computing and Internet Marketing for the Tampa, Atlanta, Orlando and Sarasota area, Announces Acquisition of Online Marketing Company ArchiTech.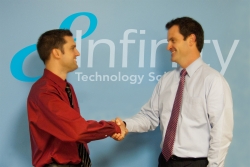 Tampa, FL, April 20, 2012 --(
PR.com
)-- Infinity Technology Solutions,
leading provider of managed IT services and technology solutions
for small to medium-sized businesses, today announced it has signed a definitive agreement to acquire ArchiTech Software & Web Solutions, Inc., underscoring its commitment to online marketing and software development. ArchiTech was a professional web design and Internet marketing firm based in the Tampa Bay area.
ArchiTech was founded by Scott Michie, President, in 2003 with a vision to help businesses successfully leverage their websites and custom software to improve processes, build brand awareness and generate new customers from a seemingly untapped funnel of opportunities, the Internet. The foundational principles of ArchiTech to be available to and transparent with its customers have made Michie's firm a breath of fresh air in a freeform industry. Over the years Michie has focused his business in the areas of websites, software and Internet marketing. His desire to help customers navigate the world of technology to improve their businesses makes this acquisition by Infinity a no-brainer with the breadth of services Infinity offers.
"At ArchiTech we've worked hard to help our clients 'build their business' and I know Infinity has a similar work ethic, which is why they are the best fit to help us help our clients," said Scott Michie, President of ArchiTech. "We've decided to merge with Infinity because they have the capacity to help strengthen and grow our clients' marketing efforts, not only online, but offline as well."
"Our marketing team is excited to work with ArchiTech on website development and internet marketing projects," said Terry Hedden, CEO of Infinity Technology Solutions. "We're thankful of the opportunity to grow our business and help other businesses at the same time."
About Infinity Technology Solutions
Infinity Technology Solutions, founded in 2003, provides managed IT and marketing services to a wide variety of industries throughout the U.S. Our marketing services include: website development, email marketing, internet marketing (SEO/SEM), software development and marketing strategy. Commitment to quality and client satisfaction has earned us a high client retention rate and various awards throughout the community. With offices currently in Tampa, Orlando, Sarasota and Atlanta, Infinity has built a solid reputation as a trusted business advisor. Additional information about Infinity can be found by visiting http://www.infinityit.com, on Twitter at https://twitter.com/#!/ITInfinity and on Facebook at http://www.facebook.com/InfinityTechnology.
Contact
Infinity Technology Solutions
Elise Phillips
813-514-8889
http://www.infinityit.com
Carissa Dykers
4902 Eisenhower Blvd. Suite 250
Tampa, FL 33634
Voice/FAX # 813-514-8855/813-514-4428
Email: cdykers@infinityIT.com

Contact