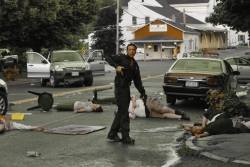 Phoenix, AZ, April 20, 2012 --(
PR.com
)-- TomCat Films LLC (
www.tomcatfilmsllc.com
) announces today that it has secured worldwide rights to Two Thirds Productions' sci-fi horror feature, Germ, which premiered at the Hong Kong International Film and TV Market (FILMART) on March 29th, 2012.
Germ, in which the military's attempt to shoot down an orbiting satellite unleashes a space-borne epidemic on a remote, small town, was written and produced by J.T. Boone, who has a keen eye for the genre. Boone is currently in pre-production on Taste, his feature-length horror script that won the 2011 Hollywood Screenplay Festival's Grand Prize for Horror and was a finalist for Best Unproduced Horror Script at the 2011 Chicago Horror Film Festival, among other awards.
Says Boone: "The Germ team is very excited about our growing relationship with TomCat and Ted. With Germ, we did our best to produce a fresh and compelling vision of people who could be your neighbors struggling with a horrifically violent situation and we are thrilled to work with TomCat in sharing that vision with the world."
"When I first watched Germ it brought me straight back to the cult classics. This film is a must-see for the true horror or sci-fi fan," says TomCat President and CEO, Ted Chalmers, an industry veteran with an impressive track record for offering highly marketable films for worldwide distribution. Chalmers has been involved in sales and distribution for a number of notable features including The Texas Chainsaw Massacre, Hellraiser and Evil Dead 2, to name a few.
Germ's director John Craddock describes the film as "set in a small Upstate New York village, whose inhabitants have been infected by a germ that causes them to become extremely violent, killing pretty much anyone they can lay a hand on and later themselves."
Germ was shot on location in the Village of Jordan, New York. John Stith, a journalist for The Post Standard detailed a day of production stating, "Last week, 'blood' ran in the gutters of Main Street as crews shot footage for the climatic fight as the male lead, Max, played by Utica native, Michael Flores (Everything Must Go, Everything's Eventual), fought his way through a crowd of zombies. Wrecked cars, trash and 'bloodied bodies' littered the street after the fight."
Full plot summary, cast and crew bios, trailers and more on Germ can be viewed on the project's official website: http://www.germthemovie.com/.
About TomCat Films LLC
TomCat Films LLC was formed in 2006 by a financing entity to produce low budget films for the world market. Recent releases include Metal Man, Alice In Murderland, Star Quest: The Odyssey, Alien Vs Alien and Thunderstorm: Return Of Thor and Bloody Mary 3D. TomCat Films specializes in offering highly marketable films for worldwide distribution. It utilizes state of the art technology to make the experience of buying and delivering films as simple and transparent as possible. The company attends all key film and TV markets, including Toronto, AFM, Berlin, and Cannes. TomCat will be headquartered in Phoenix, Arizona but will have an office in Beverly Hills, California.
About Two Thirds Productions
Two Thirds Productions, LLC, focuses on the production of action, horror and comedy feature films. For additional information, please contact:
J.T. Boone, Writer and Producer
350 Ambroise
Newport Beach, CA 92657
404.668.4053
jtboone3@yahoo.com