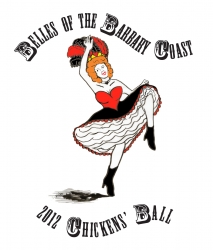 San Carlos, CA, April 21, 2012 --(
PR.com
)-- The San Carlos Chickens' Ball features great performers from different generations that get together to build community spirit and support public education in San Carlos. Some performers have been in the show for decades, while others are first time participants. Often, parents and their adult children work together.
"The Chicken's Ball has a long and established tradition of bringing together top local talent to work together to support our kids," said Sonya Sigler, Chairman of the 2012 San Carlos Chickens' Ball. "Not only are the performers local, but the set construction, set painting, hand sewn costumes and props, writing of the skits and choreography are all done by local volunteer talent, often spanning generations."
Multi-generation performers, cast and crew include:
Bob & Cathy Bensi, with daughter Danielle Bensi Barringer
Ron & Libby Utecht with daughter Kelly and son-in-law Fernando Bravo
Ricki Smith and daughter Lindsey Smith
Ron De Lora and daughter Karen De Lora
Jan Prodger and daughter Lory Najac
Kathy Reite and daughter Mary Reite Nelson
Steve and Caroline Beckwith and their son, Lyle Beckwith
Second Generation performers, cast and crew include:
Doug Boostrom Jr. (his parents, Carmen & Doug Boostrom Sr. used to perform and work on stage construction)
Jan Crawford Huss and her brother Jimi Crawford (their parents, Don & Lee Crawford, used to perform)
Cindy Cox (Her parents , Betty & Wiff Cox, used to perform and produce the show)
Alan & Vicci Mueller (his mother, Annabelle Mueller, used to perform)
Laura Teutschel (her mother, Linda Teutschel, used to work behind the scenes)
Some of the performers have been at it for over half a decade and show no signs of quitting. Said Sigler, "Sue Court has been performing in the show since 1960 and Bob Bensi since 1962.
"If you've never seen the Chicken's Ball, this year's production Belle's of the Barbary Coast, gives you a chance to see your fellow parents, grandparents, friends and neighbors as you've never seen them before."
Shows are April 20-22, 26-28. Tickets are available for performances this weekend at Central Middle School in San Carlos, or online at
www.chickensball.org
.
Carrying on a Grand Tradition
In 1939, San Carlos teacher Howard Demeke had the idea to bring members of the community together to raise a little "milk money" for the school children. He rallied the community and started a friendly "skit" competition. 73 years later, the Chickens' Ball is the oldest PTA fundraiser in the country and one of the longest continuously running shows of all time. This bawdy raucous and sometimes risqué community tradition raises money for the seven public schools in San Carlos. Funds raised this year will go towards supporting the performing arts.