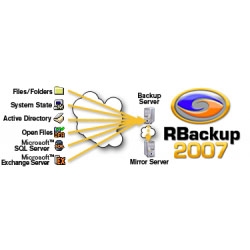 Memphis, TN, June 07, 2007 --(
PR.com
)-- Remote Backup Systems, Inc. (RBS), developer and distributor of RBackup™ online backup software on the web at
http://remote-backup.com
, today announced that it has released RBackup 2007, the next generation of online backup software for IT service providers and SMBs.
RBackup 2007 is the company's flagship software product and provides VARs, ISPs, hosting companies, and IT service companies a turnkey software solution for offering branded and secure remote data backup services to their clients. The product is also used by a rapidly increasing number of organizations as an in-house offsite backup solution.
Among the host of new features and functionality contained in the RBackup 2007 release are: native support for open files, mirroring capabilities which can automatically back up RBS Server data to a secondary location, message-level support for live Microsoft Exchange databases, Multiple-instance support for live SQL databases, and automatic remote updates to the RBackup client software.
"RBackup 2007 is an exciting and dynamic product, and has become the industry standard in commercial grade remote backup software," commented Brenna Potter, RBS' Chief Intelligence Officer. "RBS has led the online backup software market for over 20 years, and RBackup 2007's advanced feature set once again raises the bar for the entire industry."
RBackup supports full, incremental, differential and sub-file backups of client data sets, and offers unparalleled security, version control, and ease of use. The product can also maintain a quickly restorable data set within a client's secure LAN. A more complete look at RBackup 2007's feature set is available at
http://remote-backup.com/2007upgrades.htm
.
More information about Remote Backup Systems, Inc. and RBackup Online Backup Software is available at the company's website: http://remote-backup.com or by phone at 800-945-4491.
About Remote Backup Systems, Inc.
Remote Backup Systems, Inc. is the global leader in providing turnkey online backup software solutions to businesses and IT Service providers. Through their network of licensees, the company supports over 1.5 million daily computer backups around the world. RBS defines success as providing leading edge functionality, best-in-class customer support, and an unwavering commitment to product quality and customer satisfaction. With a twenty-year history in Internet backup technologies, RBS is headquartered outside of Memphis, Tennessee.
For more information visit RBS online at http://remote-backup.com
Contact: Tommy Gardner
Remote Backup Systems, Inc.
Tel: 901-850-9920
Fax: 901-854-7411
sales@remote-backup.com
http://remote-backup.com
###