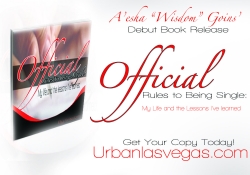 Las Vegas, NV, May 04, 2012 --(
PR.com
)-- YSIS Enterprises introduces author A'Esha "Wisdom Goins and her debut book "Official Rules to Being Single"
In this book the author A'Esha "Wisdom" Goins takes the time to deal with herself after divorce and entering in and mastering the dating process. She is a new divorcee and seems to have a few dating issues. Instead of giving up and deciding there aren't any good men left, Wisdom decides to explore the possibility that she could be the issue.
Maybe she hadn't been available for a relationship, maybe she hadn't healed from the last one, maybe, just maybe...she wasn't ready.
The book's diary entries and rules show the process Wisdom used to get over being lonely, feeling abandoned and having low self esteem. It is refreshing to read the author's description of men. She offers them as Kings and describes her honor and respect for them. YSIS Enterprises decided the writings in this book have earned the author the name "Wisdom."
There have never been rules on how to embrace yourself within the dating process. Wisdom doesn't tell you that something is wrong with you. She assists in the exploration of you to find the best you possible.
www.urbanlasvegas.com
Available at www.UrbanLasVegas.com, amazon.com barnes and nobles.com and all online and merchant bookstores.