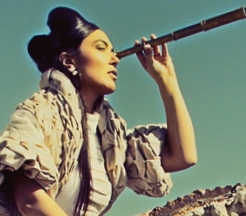 Los Angeles, CA, May 10, 2012 --(
PR.com
)-- In preparation for debuting her highly anticipated pop/electronic album "The Lost Frontier" next month, vocalist, multi-instrumentalist, composer and producer Tina Malia premiered her first single and title track worldwide today, which can be purchased exclusively from her on-line store (www.tinamalia.com) for the next five days. In support of the haunting and lush lead-off track "The Lost Frontier," Malia simultaneously released the single's riveting video worldwide today via YouTube (www.youtube.com/tinamaliamusic). For ongoing announcements, sneak peeks, special events and links to all of Tina Malia's social networks, visit www.tinamalia.com.
Facebook (www.facebook.com/tinamaliamusic)
Twitter (www.twitter.com/tinamaliamusic)
YouTube (www.youtube.com/tinamaliamusic)
"I am so excited to share with you the first single and video from my album 'The Lost Frontier' that I've been working on for more than a year. It's been a tremendous experience both personally and as an artist. The title track sets up the entire album because it seems to me that humanity has shifted to the far extremes," said Malia. "We're either living with rose colored glasses on for fear of being completely blinded if we see what's really going on, or we're so consumed by negativity that we start to see hopelessness as a safe-haven. 'The Lost Frontier' is about seeing and understanding the beauty as well as destruction in life and remembering that we have the power to choose what we do with that knowledge."
"The Lost Frontier" single: written and produced by Tina Malia; music co-written by Random Rab; and mixed by multiple GRAMMY® winner Kevin Killen. "The Lost Frontier" video: co-producers Tina Malia and Angel Villarreal; director and first camera: Rob Humphreys; additional camera: Sequoia Emmanuelle; editor: Tina Malia; consulting editor/effects: Graham Howes; little girl: Satya Roth. Tina is managed by Glenda Gracia, Deal Matters Entertainment, who can be reached at tinainfo@dealmatters.com.
About Tina Malia
Tina Malia's prodigious talent spans many musical genres and disciplines. As a singer, songwriter, multi-instrumentalist and record producer she has distinguished herself in styles ranging from pop to world to electronic. Her own diverse and growing catalog of albums is complemented by studio and live work with iconic artists such as Carlos Santana, Bonnie Raitt, Jai Uttal, Kenny Loggins, India.Arie, Idan Raichel and Bassnectar.
There are two unifying factors in all of this: One is Tina's remarkable voice. An instrument of exceptional purity, it can be as tender as an angel's sigh or as powerful as a deep ocean current. The other unifying factor in Tina's musical universe is her vision - an all-encompassing artistic perspective that embraces many of the world's musical cultures, languages and spiritual traditions.
Creativity and diversity are her very lifeblood. Of Korean and Yugoslavian descent, Tina was tutored in classical piano and voice from an early age by her mother. But it was her dad who fostered her interest in guitar, which led her to discover folk and popular music forms.
"When I was 15 or so, after performing in choirs for years and doing musical theater at school, my dad bought me my first steel string guitar," said Malia. "I started listening to many of the great female artists - Joni Mitchell, the Indigo Girls, Ani DiFranco, Alison Krauss and many others. They became my mentors, and I started writing my own songs."
Tina's self-produced debut album, "Shores of Avalon," appeared in 2000. Steeped in poetic Celtic and world instrumentation, the disc signified the arrival of a major new talent. Not long after the album's release, Tina met pioneering world devotional artist Jai Uttal who introduced her to Sanskrit mantra chanting.
"To this day, I attribute my sense of well being and where I am in my life to chanting mantra," said Malia. "It is so simple and yet so extraordinary."
Mantra is reflected on her 2005 album "Jaya Bhagavan," which was notable for its highly original fusion of Afro-Caribbean rhythms, Middle Eastern instruments and folk modalities with vocals in Sanskrit. It was followed in 2006 by more of a pop singer/songwriter album, "The Silent Awakening." Infused with a poetic lyricism that truly showed the depth of her insight into humanity and her ability to communicate that through lyrics and melody, "Silent Awakening" laid the pop/electronic foundation for Tina's most ambitious and accessible work to date: "The Lost Frontier." This new album kicks off with the title track as its first single as well as a riveting video. The highly anticipated album debuts in June 2012.
Connect with Tina Malia on Facebook, Twitter, YouTube and MySpace through
www.tinamalia.com
.
Media Contact:
Ron Roecker
Enfluence Group
ron(at)enfluencegroup.com
310.384.5641