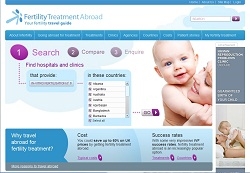 London, United Kingdom, May 11, 2012 --(
PR.com
)--
Fertility Treatment Abroad
is an invaluable resource for people experiencing fertility problems, providing a
searchable database of infertility treatment clinics
across the world offering services such as IVF, egg donation, donor insemination and frozen embryo transfer. As well as providing information about treatment options, the site also covers potential destinations, costs and practicalities such as insurance and any necessary documentation needed to travel for treatment. Information on treatment at more than 500 different clinics in over 50 countries is included on the site at launch.
What does the site offer?
The site is impartial, allowing users to compare treatment options, destinations and clinics and make informed decisions about their fertility treatment.
People seeking fertility treatment can search a database of information on over 500 fertility clinics around the world. The initial search is based on a selection by type of treatment and by country. They then narrow down their search by filtering results according to their preferences, such as number of procedures undertaken, price for IVF, upper age limit, whether sex selection is available, whether donor anonymity applies etc. Users can then select a shortlist of clinics and compare their profiles, prices and success rates.
A unique feature of
Fertility Treatment Abroad
is the "Good Practice Score", based on compliance with the ESHRE Good Practice Guide for cross-border reproductive care. ESHRE, the European Society of Human Reproduction and Embryology (http://www.eshre.eu), is an independent body that works to ensure safe, high quality assisted reproduction treatment for international patients. The Good Practice Score applies a rating on 20 different factors to create an overall percentage score for each clinic.
How many people go abroad for fertility treatment?
While precise figures for UK residents travelling overseas for infertility treatment are not recorded, an academic study in 2010 estimated that 25,000 cross-border infertility treatment cycles are carried out in Europe every year. (Source: TransRep: An exploratory study of UK residents who travel abroad for fertility treatment).
Where do they go?
Spain, Cyprus and the Czech Republic are the most popular destinations for people from the UK seeking fertility treatment (Source:
2012 Treatment Abroad Medical Tourism survey
).
Why do people go overseas for infertility treatment?
There are a range of reasons why people choose to travel abroad for treatment. The 2010 TransRep study found that 34% had had difficulties accessing suitable treatment in the UK (due to the so-called 'postcode lottery'), 37% had had previous treatment failure and 28% wanted a better quality of care. 26% of those who took part in the survey also cited a wish for an anonymous donation as part of their decision. Other factors often mentioned included a lack of donor gametes in the UK; the cost of UK treatment and better success rates overseas.
A 2012 survey by FertilityTreatmentAbroad.com parent company, Intuition Communication, asked those who had travelled from the UK for infertility treatment for their reasons for doing so. The following reasons were rated as 'very' or 'quite' important by participants:
I wanted to avoid the waiting list (30.6%)
I wanted to save on the cost of treatment (29.5%)
My treatment is only available abroad (14.3%)
I wanted to combine my treatment with a holiday (11.4%)
I wanted to have treatment without friends and family knowing (9.5%)
Why is the site needed?
Some of the information available on FertilityTreatmentAbroad.com was previously available on sister site TreatmentAbroad.com but has now been expanded and updated to provide a total online resource and community for those seeking fertility treatment overseas.
Keith Pollard, Managing Director of Fertility Treatment Abroad says the site aims to offer alternative options to people struggling with infertility:
"Many people look for alternatives to either NHS or private fertility treatment in the UK, for a wide range of reasons, from waiting lists to the availability of donor eggs or sperm. With FertilityTreatmentAbroad.com we wanted to offer those people another option. There are some excellent fertility clinics offering world-class treatment around the globe but many people struggle not only to find the right treatment option but also to identify the best place for them to go in terms of quality of treatment, patient services and the type of destination. With more than 500 clinics in our database, there is bound to be a clinic to suit almost every patient need somewhere."
Case Study
Cathy Caton, from Littleborough near Rochdale, turned to
Treatment Abroad
, forerunner to FertilityTreatmentAbroad.com when she and her husband wanted to have a child together but knew, after previous treatment and two or three years trying to conceive naturally, that Cathy had problems with blocked tubes. After treatment in Hungary, Cathy gave birth to triplets in February this year.
"When we started looking into having fertility treatment, it was clearly going to be too expensive in this country. We weren't seriously looking to go overseas but once we looked at the website it suddenly seemed like a realistic possibility.
"We spent four or five months researching and chose Hungary because we could afford to go and have the consultation. The clinic was great and we chose it because the doctor spoke good English, they had a coordinator who made all the arrangements for us and they even had a freephone number whenever we had any questions.
"We went for our initial consultation then came back to the UK and had the scans they needed and the medication, which we had to pay for privately. We emailed the scan results to the clinic and they bought our treatment forward having seen the results.
"I'd recommend the experience of going overseas to other people – it was a lot less stressful than we expected and while I wasn't expecting triplets, completely worth it!"
For all media enquiries including interviews, images and case studies, please contact Steve Bustin at Vada Media on 07803 729208 or steve(at)vadamedia(dot)co(dot)uk.